Creepy children and counterculture: the rise of Yoshitomo Nara
The Japanese master beloved by Gen Z and Stella McCartney
In a sea of brands launching partnerships, collaborations, capsule collections, second lines, and limited editions on a daily basis that are often easily forgotten, it begs the question of the point of projects destined to macerate in some warehouses and remain unsold. Sometimes, however, a few rare exceptions remind us that there are meaningful projects away from drop fomo that deserve the success they have. In the case of Stella McCartney, the evocative paintings of Yoshimoto Nara, presented in 2020 through an eco-friendly and unisex collection reworked for SS23 with eco-fringes, was enough to keep the designer's pieces out for the first time in a long time. The British designer's activism, love of nature, and essential garments shine in a new light thanks to the Japanese pop art master's simultaneously cartoonish and disturbing portraits, embodying Generation Z's youthful rebellion in a surprisingly effective way.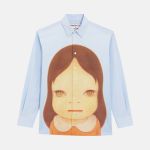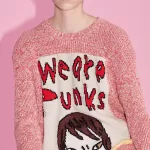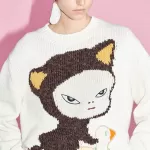 Pouty kids, pastel colors, and countercultural slogans animate organic cotton jersey t-shirts, hoodies, sweatpants, shirts, plant-based poplin trousers, baggy-fit jeans, pajamas, Double-Face bomber jackets, knitwear, and the ubiquitous vegan accessories (from Elys wedges to bucket hats to recyclable loop trainers, Gaia espadrilles and Fur-Free Fur pool slides with Nara designs). It's to the McCartney team's credit that they sensed translating Nara's appeal into clothing would be a success, but the focus remains on the talent of an artist who can express the anxieties of postmodernism in the faces of innocent but never harmless children. But who is Yoshitomo Nara and how did he become Japan's most famous living contemporary artist? In 2019, Nara caught the market's attention when Sotheby's in Hong Kong sold his most famous work Knife Behind the Back (2000) for a record price of $25 million. Since then, he has become one of Asia's most expensive artists, and his works regularly appear in major auctions. But Nara's legacy goes far beyond the prices of his paintings. As critic Robert Smith writes in the New York Times, his works are a bridge between "high, low and kitsch; East and West; adults, adolescents, and children."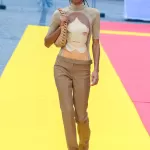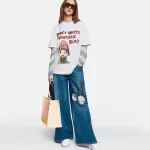 Born in 1959, Nara grew up in the rural town of Aomori, known for its heavy snowfalls and dark winters. He found comfort in talking to animals, American TV shows, and Japanese comics. He soon developed a passion for music, from American pop music to 1960s punk, which led him to internalize the anti-establishment sentiment of Western rock of the time in his art. At 28, he went to Germany to study at the Duesseldorf Art Academy with A. R. Penck, a neo-expressionist known for his abstractions that reflected post-war Germany. He then moved to Cologne and back to London, unable to settle in an art metropolis where he could conquer the sense of isolation that had accompanied him since childhood, manifested in painting through flat, neutral backgrounds. The turning point came in 1995 with a solo exhibition organized by the Tokyo gallery SCAI the Bathhouse. Since then, critics have drawn comparisons between Nara's figures and Japanese Kawaii or American Twee Pop, highlighting the artist's ability to transpose adult feelings of alienation into the inner world of children.
At first glance, Nara's kawaii children seem benevolent, but their innocence is deceptive: they brandish crucifixes, flaming torches, and knives, appear distraught, some have long fangs and others hide lit cigarettes behind their backs. Critic Sianne Ngai has considered Fountain of Life (2001), a sculpture consisting of seven dismembered dolls with their heads stacked on top of each other in an oversized teacup, an excellent example of the violent current that animates Nara's work. The artist's most commonly depicted subject is a suffering young girl who has captured the attention of a global audience in an intimidating escalation, standing out against a neutral brown background and staring at the viewer with glazed eyes and compressed lips in Midnight Truth (2017), perhaps the artist's most iconic painting. Today, critics attribute Nara's cult status to the way she captures a universal sense of dread and nostalgia without being held back by cultural or generational differences, artistic or consumer medium.