Even artworks become clothing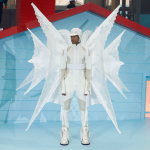 If you think of wearable artwork and are immediately greeted with nostalgic images of tie dye tees or Y2K-esque spray painted garments, we have news for you. The wearable art trend has had somewhat of an upgrade in recent years and is now much less DIY and far more desirable. There has never been a better time to invest in art and the interest in artwork as a viable asset is set to grow throughout 2022 and beyond. Artist Daniel Arsham noted that once avid sneaker enthusiasts are now selling their collections to invest in art. So what's the big deal? Investing in a piece of art is a great talking point. That eclectic sculpture in your hallway or the dynamic multimedia print above your bed is exciting, but what better way to show off your new investment than by wearing it?
A vast number of artists have taken to creating works of art directly on garments, producing unique pieces and creating what could be described as a walking gallery of fans across the world. Art lovers no longer need to take a trip to NYC to see a Basquiat but could instead spot one walking the streets of Milan. Earlier this year, LVMH-owned Swiss luxury watchmaker Tag Heuer introduced a new update for smartwatch owners. This enables users to connect to a crypto wallet allowing them to display their NFT's on the face of their watch. Dubbed the ultimate status symbol, this move brings a whole new meaning to art ownership and potentially begs the question of style over substance. As the fashion world continues to battle with overproduction and the culture of fast-fashion, artists and designers are taking traditional art methods to non-traditional mediums. Luxury men's brand Robert Graham released a series of artist collaborations for their fall/winter 2021 season. The New York based eclectic fashion house reinterpreted works by iconic artists such as Vincent Van Gogh, Leroy Neiman and Ryan McGinness offering fans the opportunity to own collectible artistry married with design expertise.
From iconic artists to turning icons into works of art. London based design company Unaji&Co dynamically fuses sustainable fashion and fine art. Recreating standout fashion editorials or memorable images of the likes of Kate Moss, Skepta or David Bowie, the pieces often include fragments of iconic photographs or magazine spreads. Drawn or painted elements are then added, exploring the relationship between reality and utopian ideals. Breaking the boundaries between fashion design and fine art, the pieces are fused with garments to create unique works of wearable art. Once reserved for those with a particular lifestyle, the world of art is opening up to a new audience. Part of this cultural evolution is thanks to the interdisciplinary nature of a vast number of modern-day icons. The late Virgil Abloh is perhaps the greatest embodiment of this generation of artists. His ability to combine elements of fashion, architecture, graphics and of course art, created a cultural blueprint for a new era of creatives and piqued the interest of the masses.
The incorporation of artwork has continued to emerge elsewhere too. From spray-painted nail art to graffiti merchandise, it seems we can't get enough of the custumisable nature of wearing a work of art whether on a jacket or at the end of our fingertips. Airbrush t-shirts are the latest and greatest way to make a statement whilst still retaining an element of authenticity. Kai-Isaiah Jamal's Virgil Abloh tribute tee made its rounds on social media and was instantly met with praise. Meanwhile, a host of emerging artists are taking the airbrush trend and putting their own spin on it. Creamy Studios upcycle hoodies and t-shirts breathing new life into them with sprayed on designs of everything from trippy smoking skeletons to demonic interpretations of Spongebob. Their unique designs have become favoured by skate fanatics and incorporate modern art into the ever-growing world of streetwear.
The tangibility of wearable art is perhaps one of the most defining reasons behind its increasing popularity. The concept of wearing a garment that has taken hours to create during a time when so much of what we own is produced in such volumes that it loses its individuality and appeal, is undoubtedly a driving factor. Hand-illustrated pieces have a distinct focus on craftsmanship that is impossible to achieve in the fast-fashion world. The relationship between art and fashion is not a new romance or a short-lived fling. However, the trend's clear increase in popularity demonstrates our collective motivation to look at clothing as an investment and that art and fashion's love affair is set to continue into the near future.