The treasure hunt to win free works by Takashi Murakami and Daniel Arsham
The initiative was organised by the Perrotin Galleries and the Grand Palais in Paris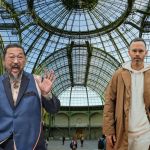 «20 artworks by Perrotin artists will be concealed in the empty nave of the Grand Palais. If you find one, you leave with it».
It is with these words that Emanuel Perrotin, owner of the homonymous art gallery, announced on Instagram his new project developed in collaboration with the Grand Palais: a 48-hour scavenger hunt called Wanted! to be held between 23 and 24 October. Among the works of art that will be practically given to anyone who can find one are also works by Takashi Murakami, Daniel Arsham, Emily Mae Smith and JR.
Due to health restrictions, the scavenger hunt will be organized in fifty-minute sessions during which up to five hundred people will be able to participate in each session. Participating is completely free and anyone who wants to challenge luck can do so with a simple reservation.
All the information about the Wanted! treasure hunt at the Grand Palais in Paris are available on the Perrotin Gallery's official website.