Kanye West, Julia Fox and our obsession with celebrities
From divorce with Kim Kardashian to voyeurism for the life of the stars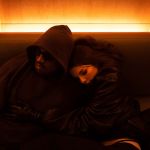 If you frequent the world of social networks most likely you will not have escaped what has officially become the story of early 2022, the "love triangle" that unites Kanye West, Kim Kardashian, Julia Fox and Balenciaga. To summarize the previous episodes, after the divorce between Mr. and Mrs. West, the two parties have taken two totally different paths in an attempt to overcome the end of a marriage that lasted seven years: Kim has found company in comedian Pete Davidson in a story that according to more than one rumor would look more like a PR stunt "made in Kardashian" than a real lightning strike, while Kanye has asked his ex-wife more than once to come back to him, first in an interview and then in front of thousands of people during his live show with Drake last month. At the center of this strange sentimental tug-of-war there is Demna, or rather Balenciaga, which starting from the listening parties of Donda has dressed on more than one occasion both Kanye and Kim, becoming in a sense the "dark director" of what we had already defined some time ago as a "reality-fashion".
Just like a real reality TV, this story has recently seen the arrival of a new episode with the aforementioned entry on the scene of Julia Fox, actress best known for her role in Uncut Gems, the movie with Adam Sandler directed by the Safdie Brothers. After a series of photos taken by the paparazzi, the couple came out of the closet today with a brief interview given by the actress to Interview Magazine in which she tells the genesis of her relationship with West and their second date, the one in which Kanye would have made her find a hotel room full of clothes, probably those that Julia Fox wore during the couple's social outings, making more than one commentator's nose twitch on social media. "She's dressed like Kim Kardashian" wrote someone, forgetting that KKW's style, incensed at the end of a decidedly positive year for the founder of Skims, comes from exactly the same person who "dressed" Julia Fox, Kanye West. If you are familiar with the Kardashian family, you will certainly remember the scene in KUWTK where Kim tells how Kanye emptied her closet to revolutionize the style of someone who at the time certainly could not boast the status of fashion icon.
But within this story made of real divorces, fake relationships and brands that dress the parties in question, it is impossible not to notice our obsession with the lives of celebrities, the voyeurism that constantly accompanies our days spent looking for an explanation to what, in all likelihood, is nothing more than a beautiful machination designed for us, that curved on our smartphones we observe every detail of Kevin Leyva's photo shoot. In his career Kanye West has always used relics as the basis of his work, 808s & Heartbreak was the direct result of the separation with Alexis Phifer while the story and marriage with Kim Kardashian gave birth to Lost in the World just to name one, so it would not be strange to imagine this bizarre love triangle as a next step in Ye's performance art, a show that combines fashion and gossip in which one of the parties involved is us, thirsty for gossip and ready to probe the lives of celebrities.