Just Fire Mixtape Vol. 4 is the soundtrack of your change of season
To be listened to with caution
Pills
February 25th, 2021
Just Fire Mixtape, the project launched by Lubra, Ignorance and Wolsha, arrives at its fourth appointment available from today. The host of this mixtape is the Human collective, the group formed by TazGoons, CastGoons, Estremo, Omar Emme and Zen on a mission to bring back vibes and dancefloor culture in the world of the night under the banner of "A little dose of humanity ".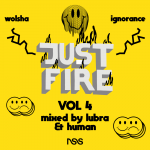 Mixing the fourth volume of Just Fire Mixtape once again by Lubra, who with the Stereoliez project has created a series of releases supported by the likes of Diplo, Skrillex, The Chainsmokers and DJ Snake.
You can listen to the fourth Just Fire mixtape right away by clicking on this link.