What is the point of Travis Scott's collaboration with McDonald's?
Scott is a company, a multinational company, and behaves as such
It's been 5 years since the release of Rodeo, the record that projected Travis Scott into the blogosphere, making him the first real trap superstar, the one in which rap had become the new pop and, for the brands, the rappers the perfect substitutes of sports stars. In these years, no other artist has been able to elevate his image like that of Travis Scott, managing to decline it in any sector of modern entertainment. Even his debut with Rodeo had been accompanied by the release of an action figure of Travis himself: now a new action figure will appear on the market, as part of a collaboration with McDonald.
La partnership tra uno dei brand più popolari al mondo e Travis Scott replicherà qualcosa che era stato pensato solo per Michael Jordan e che non si vedeva sul mercato dal 1992. McDonalds realizzerà per Travis un menù apposito (come era stato per il McJordan), di cui farà probabilmente parte una sorta di Quarter Pounder con salsa BBQ, patatine e Sprite, oltre alla già citata action figure e, probabilmente, del merch. In rete è circolata la notizia di una tee appartenente alla collezione venduta per oltre 600 dollari, un modus operandi alimentato da quel circuito dell'hype ai limiti dell'idolatria di cui Travis Scott stesso è stato tra i principali fautori.
Business Insider was the first media to leak the news, obtained apparently through a memo from Morgan Flatley, McDonald's US's head of marketing. The memo reads that Travis «he is a true fan of McDonald's and our craveable, iconic food. He will resonate and spark excitement with our youthful multicultural customers, and has a few surprises to delight our crew and ensure they are part of the excitement». According to Business Insider, the goal of McDonalds is therefore extremely targeted: «We need to make sure we are looking through the lens of our operators, our crew, and our people to better connect with African-American youth as we go forward».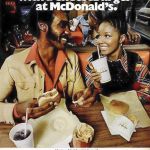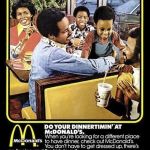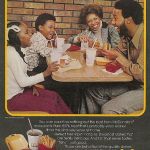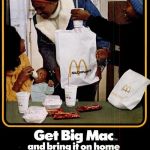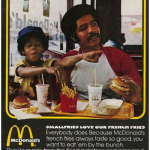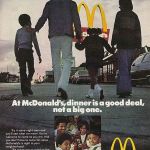 While McDonald's seems to have solved its problem with younger generations in recent years (Gen Z, unlike Millennials, is much more likely to eat at McDonald's), the relationship between the brand and the black community is more intricate and complicated. Marcia Chatelain described this well in her book, Franchise: The Golden Arches in Black America, which tells the story of how McDonald's has tried several times to become a symbol for black neighborhoods, only partially succeeding. As Chatelain says, in the 1970s, America's McDonald's was the only place that African Americans could eat freely, just as franchises were the businesses that African Americans were willing to invest in. Things didn't go perfectly, until more than 50 African-American McDonald's franchise owners sued the company, accusing them of misleading them about the opportunities of their business, promising high profits and instead placing their stores in neighborhoods of high crime and poverty.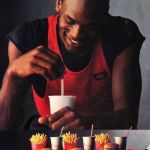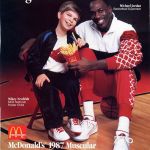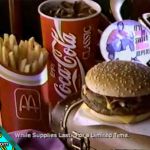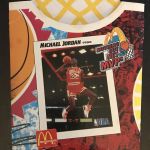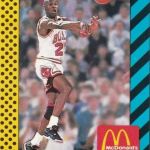 In the 1980s and 1990s, the race for African-American audiences was put in place through NBA sponsorship. For years, the brand has been the league's main sponsor, establishing a tournament among the best young people in the country (which is still held) and making historic commercials with the likes of Magic Johnson, Larry Bird and Jordan himself. It was as part of this collaboration that Michael Jordan signed on to market his custom McJordan menu - a unique case in history. But if approaching the NBA, a predominantly black league with a large following of young African-Americans, is a huge winning media strategy, are we so sure is Travis Scott?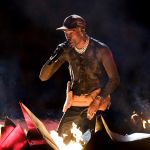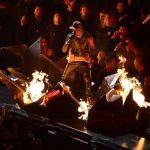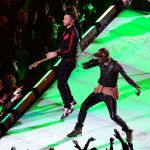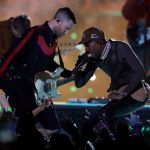 Prior to his recent interview for the cover of GQ, Travis had spoken on political issues and on more pressing topical issues such as police brutality and Black Lives Matter. In the interview, Travis said he was ready to work closely with his city, Houston, to find ways to make a difference within the community and to "have a real impact" on the world: "It's a battle we're fighting, and it seems that no one wants to give us the result we're looking for."
During the 2019 SuperBowl, Travis Scott was the only African-American star to agree to perform on the halftime show, after Jay Z, Beyoncé, Rihanna and others boycotted the performance to protest Colin Kaepernick's bullying. There was a collection of signatures asking Travis not to perform, and he himself participated in the show on the condition that the NFL donate half a million dollars to charity. Even Meek Mill and Jay Z asked Travis to think again, but, as Justin Tinsley wrote at the time on The Undefeated: «It's most likely that Scott's "Wish You Were Here" tour will continue to be one of the most sought-after tickets. And it's hard to imagine how Scott doesn't walk away with at least one Grammy next month, given the vise-grip "SICKO MODE" had on the charts for the last half of 2018». No one, therefore, ever thought that that decision could have any effect on the career of Travis Scott, and this is because travis' target audience, target and brand have become what in financial jargon is called too big to fail.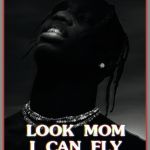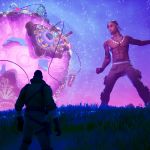 After the millionaire partnership with Nike, a documentary on Netflix and a collaboration with the most popular video game of the last 20 years, Fortnite, Travis Scott has become the perfect fulfillment of American capitalism, a capitalism with a perfectly clean image, unassailable from the social media backlash because it is so ubiquitous that it ends with pleasure to everyone. Travis Scott has made his career the perfect representation of the Instagram era, going more and more to position as "Kanye West of our era" more than as the new Kanye West. Travis Scott's audience is no longer necessarily the same as Kendrick Lamar, but Drake's. Travis is the rapper of the American middle class, father of the daughter of one of the most powerful influencers on the planet. Travis Scott is everyone's rapper, like McDonalds. And that's why it's hard to imagine that it will succeed in the goal of expanding the brand's already large audience, which in some respects represents the darker and more stereotypical side.
Fabian Gosler on Highsnobiety pointed out that the collaboration between Travis and McDonald's is one between the most popular rapper in the world among Gen Z and one of the fast food restaurants that is primarily responsible for the high obesity rates of young Americans, perhaps all too morally emphasizing how Travis Scott is putting his economic compensation ahead of the health of his fans. But Travis Scott is a company, a multinational company, and behaves as such: it is very likely that the partnership with McDonald's will be part of the charitable shares directly linked to the sale of the menu, which will also be sold at the popular price of 6 dollars. It makes no sense to wonder whether it's ethical for Travis Scott to advertise at a fast food restaurant, how he didn't expect rappers' songs to be educational or that a brand didn't fuel a crazy and certainly senseless hype around his collaborations. The goal of all these initiatives is to build what is probably already the largest merchandising machine in recent music history, much more than bringing McDonald's back to the African-American community. From this point of view it is clear that Travis Scott does not guarantee street credibility, but engagement and coolness, a coolness that an "old" brand like McDonald's - like others in the fast food industry, such as Dunkin who collaborates with TikTok megastar Charli D'Amelio - can only search in the universe of social media. But if it's now clear what Travis Scott is for at McDonalds, the real question is, what's Travis Scott for McDonalds for?