A new The Simpsons short-movie lands on Disney+
'Maggie Simpson in Playdate with Destiny'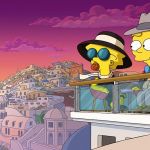 On Friday, April 10th, 2020 Disney+ has launched a new exclusive content: Maggie Simpson in Playdate with Destiny, a short-animated movie from The Simpsons franchise. It's the first original content following the deal signed in 2017 between The Walt Disney Company and 20th Century Fox. The Simpsons creator Matt Groening announced it via Disney+ official Twitter, with a special hand-written note.
The film lasts a little more than 5 minutes and it's clearly inspired by the short movies of the silent films of the origins, accompanied only by catchy music and the verse of Maggie's dummy. It made its debut on the big screen before Disney and Pixar' film Onward early this year - and it follows the success of another The Simpsons short movie: Maggie Simpson in 'The Longest Daycare', which was nominated at the 2013 Academy Awards®. It's an epochal moment for The Simpsons saga: after their acquisition by the Company, Homer & co. have officially become part of the distribution and marketing strategy of Walt Disney.
Both the films will join the platform, along with the first 30 seasons of the fortunate series and The Simpson Movie (2007). Maggie Simpson in Playdate with Destiny lands on Disney+ a few days after the launch of Quibi and the news that the latest Disney's streaming service reached 50 million subscribers all over the world.