The set of Stranger Things Season 3 will be Berghain in Berlin?
Some rumors suggest it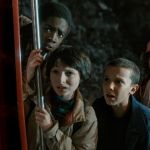 Stranger Things 2 has just ended, and all fans are already questioning what will happen in the third season just confirmed by Netflix.
The latest rumors concern the set and announce a drastic change of location for the Duffer brothers project.
According to some, the producers decided to set the new season exclusively in the basement of the Berghain nightclub in Berlin.
"After working on something as successful as the first two seasons of Stranger Things, it's really kind of difficult to know where the show should go next" - explained executive producer in an interview reported by wundergroundmusic.com and added - "We know we need to go big in season three and we want to have some real shock factor, so we've decided Berghain dark rooms will be the ideal setting".
The choice of the German nightclub aka the most famous techno club in the world could let you guess something about the development of Eleven & co story, as is stress:
"I don't want to give anything away about the plot but, if you know anything about Berghain, you'll know that we won't be using any children in our cast for season three. We're really shaking up the pot for this season but we're sure that this is going to be some of the strangest shit you've ever seen".
Curious?