5 good reasons to love Piss On Your Grave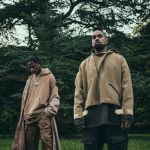 Maybe you missed that because you were too busy celebrating Halloween last weekend, but the new Piss On Your Grave videoclip was released on Friday 30rd, starring one of the tracks of rapper Travis Scott's debut album.
The song is a bomb, there's even Kanye West who joins Scott, a duet that is hard to forget.
Foggy atmosphere and distorted sound, in the videoclip the two rappers, pissed off with the world, walk around a dark forest and scream they're going to piss on our graves and to use our facecs as an urinal, the whole thing with sudden images of muddy skulls and the presence of a masked man (Mos Def).
All of that just seems a very good reason to love this video, but I'm going to give you five more, so you'll have no more excuses to say you don't like POYG.
#1 Nabil is the director of the videoclip, the same man who shot FKA Twigs's Two Weeks, Nicki Minaj's Lookin Ass and Skrillex's Fuck That, just to name a few. So, Nabil means quality, and this video proves it.
#2 Kanye West's movements and alienated and neurotic expressions, while he repeats Piss On Your Grave / Piss On Your Grave / Piss On Your Grave / … are worth a thousand Kim Kardashian memes.
#3 Those scenes in which the two singers's souls (?) get away from their bodies are already viral gifs on the Web for expressing unease and discomfort of all kinds.
#4 From the point of view of color-coding, the cinematography is perfect. Even the rappers clothes – branded Yeezy Season 2 – are in harmony with the autumn tones palette of the videoclip.
#5 Last and maybe purely girly reason: in this video Travis Scott is beautiful.