And finally Donda arrives
How a record became a collective event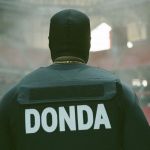 On a tired Sunday at the end of August, there are very few things that can completely reverse the fate of a day apparently forced into a slow alternation between shopping, Netflix and house cleaning. If you have followed even in passing the vicissitudes related to the release of Donda, the tenth studio album by Kanye West, you will surely know how by now, after three parties and a series of unfulfilled release dates, the hopes of actually seeing him were really. few. A resignation also dictated by a historical memory that constantly accompanies every Kanye West fan, with the ghost of Yandhi always present to remind us how a record can disappear into thin air overnight becoming almost a fetish for all those people resigned to ' idea of ​​having to deal with Kanye and his nature. It may also be for this reason that when yesterday morning on the subreddit dedicated to Ye, the historic WestSubEver, the rumor of an imminent release began to spread, the thought immediately went to that Tweet of 26 August 2018 in which the phrase "Yandhi is releasing this Saturday" sounded like a warning. But patience is the virtue of the strong, strong enough to have been right because in the end Donda came out, he exists and you can listen to him here. But all this preamble served to arrive at what is perhaps the most important thing, beyond the record obviously, the collective experience born around Donda, the way in which a record managed to become a classic even before it came out and how Kanye West has once again turned the tables.
In addition to the artistic value of the album, the first streaming data speak for themselves, the three events that preceded its release will undoubtedly remain in history. Halfway between a listening party and a mystical experience, those staged in Atlanta and Chicago told the story within the story, opening a narrative around the record that helped to create a further aura of uniqueness around what is already on paper it was a unique event. Between those carrying out crazy theories and those tearing their hair over the changes made to the record, the last 30 days have been a huge emotional roller coaster for Kanye West fans: elated by the return of Jay-Z, disappointed by that. DaBaby and worried about continual disk lags. In between was the arrival of Demna Gvasalia, Kim Kardashian dressed as a bride and Kanye on fire near a reconstruction of his childhood home. Lovers of dissing have found bread for their teeth with the long-distance fight between Kanye and Drake, between an Instagram post of the first and a Story of the second, a duel that perhaps existed more in our social feeds than in the agendas of the two took place rapper. If, on the other hand, you are a fan of numbers, suffice it to say that according to some calculations this month of listning party West would have earned more than 12 million dollars. A record figure reached thanks to the tickets sold, the merchandise made with Balenciaga and the increase in data on streaming platforms. All without counting an agreement with Apple Music whose figures are unknown.
Moments that perhaps will be worth even more than the disc, which transformed Donda into an "instant classic" even before arriving on streaming platforms, contributing to the umpteenth transformation of the world of music signed by Kanye West. Whether you love it or not, it is impossible not to be at least fascinated by what we have seen in recent weeks, since I lived, read and discussed what has turned into a collective event that has gone beyond Kanye's fanbase and the niche of the fashion or rap world. . In his career West has always distinguished himself also for his unpredictability, for the ability to move against the tide in a standardized world like that of music in which, let's not hide it, the good and the beautiful win in its pre-packaged and produced version. Indeed, whether you love him or not, you should all thank Kanye West for making everything, once again, unique and unpredictable. As West himself said, "Donda is not the album of the year, it's the album of life".