Lil Nas X trolled his fans and Nike with his new video
The rapper released a sketch-teaser called "Nike v. Lil Nas X — Satan Shoes Trial"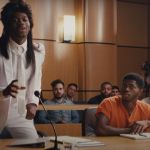 Yesterday, Lil Nas X shared on his channels a teaser video of his new single Industry Baby, produced among others also by Kanye West, in which a fake trial for the lawsuit filed by Nike is staged concerning the use of a pair of unauthorized custom containing human blood, the famous Satan Shoes, in the video for Montero, which was released last March. Within the video, the Texan rapper plays all the roles, the convict, the two lawyers and even the judge, and ends up self-pleading guilty and sentencing himself to 5 years in prison in the Montero State Prison – another reference to the Satan Shoes video. From the entrance to the prison onwards, the story told in the new video begins.
The teaser video comes after a week of trolling by Lil Nas X who had announced on both Twitter and TikTok that he would appear in court precisely to face Nike's accusations – a news that many had taken for real, also launching the hashtag #FreeLilNasX that went viral while his fans wished him en masse to come out of the process winner. In fact, Nike's lawsuit was not directed at Lil Nas X but at shoe manufacturer MSCHF – with whom the Beaverton brand had reached an agreement last April anyway.
The video, which seems to refer both to the sketches of Saturday Night Live and to the comedies of Tyler Perry, author of the film series Madea in which the same director and author plays several different roles, also contains references to the various controversies that have surrounded the way in which Lil Nas X expresses his sexuality. Within the sketch, in fact, the judge, inspired by the real conservative Justice of the Supreme Court Clarence Thomas, ends up condemning the rapper to prison going from the accusation of having copied Nike to that of being simply gay - an obvious reference to the fact that the comments directed against him were motivated more by his sexual orientation than by true legal factors.