Everything we know about Kanye's new album
Arthur Jafa, a video artist who has always been involved in the fight for civil rights, is the author of the cover art
On June 26th, after more than four months of social silence, Kanye West took over his smartphone to talk about all his new projects, placing them all under the hashtag of #WestDayEver. West's return to social media seems to have opened up a new golden moment for the Chicago artist, who through a series of tweets revealed his next moves. In addition to the now famous agreement with Gap and the appointment of designer Mowalola as the design director of the project, in addition to the animated show of Kids See Ghosts with Kid Cudi and Takashi Murakami and in addition to the announcement of a new version of Yeezy Supply with a documentary about the making of by Nick Knight, Kanye is back to doing what everyone loves him for: talking about music.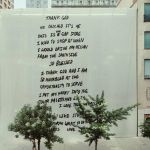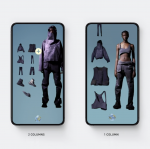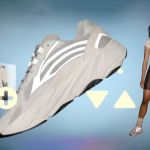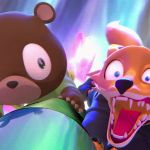 Seven months after the announcement of a Jesus Is King - Part 2 made with Dr. Dre it seems to be finally time to listen to something new, West's second step into the "christian rap" world after JIK. The first clues about God's Country had come a few months ago, first when Christina Binkley had written in the Wall Street Journal about a recording session in Mexico and a few weeks later when GQ's Will Welch had anticipated part of the lyrics to what would later become the album's first official track, Wash Us in the Blood. The same piece was then anticipated by director Arthur Jafa during a live Instagram with Michèle Lamy in which he stated bluntly that he had worked on the video for a new Kanye West song and that this would come out soon. All with their breath, but to no avail because until a few hours ago the only evidence of a work in progress was a Kanye tweet, a leak leak leaked online and a video posted by Snoop Dogg on his Instagram profile.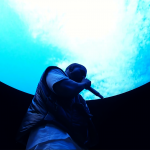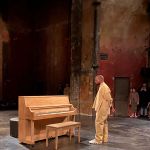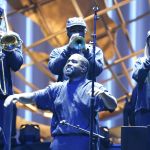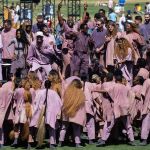 The answer to every question will come in a few hours: after a first announcement, Kanye has dropped Wash Us in the Blood, whose video and artwork were made by Arthur Jafa himself. In Jafa's work you can clearly see two references, the first being to Thomas Whitfield and the live performance of Nothing But The Blood with Lateria Wooten as a soloist. During an interview published last year by the New York Times Style Magazine, Jafa talked about the importance of this live show, pointing out that the entire performance was not so much the one on stage, but that of the audience, a vivid and realistic insight into the black community in 1992. The same video was part of Love is the Message, the Message is Death, a video essay in which Jafa combined footage of American police violence, fragments of pop culture, civil rights protests, and life-breakers of the African-American community over the years. All accompanied by the notes of Ultralight Beam. The second reference is hidden in the cover of the single, which in its extreme simplicity recalls Ye's favorite film, There Will Be Blood, using the same font used for the poster of the film by Paul Thomas Anderson.
The themes mentioned by Jafa may also be present in the video, but the information about it has been kept secret. What is certain is that Jafa's cross-sector profile fits perfectly with Kanye's complex and layered project. A video director for names such as Solange and Jay-Z and winner of the Golden Lion at the Venice Biennale, Arthur Jafa worked as director of photography for Julie Dash and Spike Lee, but above all he studied film and architecture at Howard University. Cinema and architecture, two of West's passions, who just a few days ago enjoyed quoting Tron and Ricky Bobby in the huge poster outside the Gap store in Chicago. So it's no surprise that Kanye chose him for the video for his new song. A song in which West will not be alone, but will have the accompaniment of Travis Scott.
Arthur Jafa's participation in what Kanye calls Project 2 remains definitely the most interesting aspect of the story, the turning point that can give new meaning to West's work enriching him with the experience of Jafa, always a spokesman for the anger and desire for change of the African-American community. If Jesus Is King had left a bitter taste in his mouth for its simplicity, God's Country could really bring West's new project to fruition and make us go back to talking about him as he once was.