Just Fire Mixtape Vol. 7 from Milan to New York
A trip to the Big Apple
Just Fire Mixtape, the project launched by Lubra, Ignorance and Wolsha, arrives at its seventh appointment available from today. The host of this mixtape is Massimiliano "I'm a Teenager" Marzucco, illustrator from Milan. already working with Vans, Vice, adidas, Universal, Style Magazine, Rude Records and La Repubblica. When she's not drawing, she works as a waitress at Rosy's, a diner between 42nd and Broadway to pay for her singing lessons. She dreams of becoming a pop star.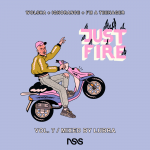 Mixing the seventh volume of Just Fire Mixtape once again by Lubra, who with the Stereoliez project has created a series of releases supported by the likes of Diplo, Skrillex, The Chainsmokers and DJ Snake.
You can listen to the seventh Just Fire Mixtape right away by clicking on this link.