Why everyone is talking about Billie Eilish
The dark and goth artist at the top of all the charts in the world
As it happens often in the music industry moving at the speed of light, that discovers its talents on social media and that creates phenomenons as fast as it destroys them, there's always a name that for a specific period of time is everywhere, and in the last few months this name has been the one of Billie Eilish.
In the US she's a star, she was a guest at the Ellen Show, at Jimmy Fallon and Jimmy Jimmel, she appeared on Sneaker Shopping with Complex, and this weekend she will perform at Coachella, as the weekend after that. On Instagram, she can boast 17,5 million followers, gaining fans and followers every day. In Italy, we're slowly starting to appreciate her, especially after the release of her debut album When We All Fall Asleep, Where Do We Go?, but Billie Eilish is quite a character.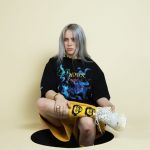 Born in 2001 in LA, Billie Eilish Pirate O'Connell grew up in a family of actors and musicians, she was homeschooled, and was part of the Los Angeles Children's Chorus, where she discovered her passion for music. A pivotal personality at the beginning of her career, but still today, is her brother
Finneas
, songwriter and musician. Billie started singing and writing songs at 11 years old, and what turned out to become her first single was created quite randomly. Billie, in fact, would attend dancing classes and one day her teacher, who knew about her music passion, asked her to write and record a song for a choreography. Billie worked on it with her brother, together they created
Ocean Eyes
, post it on SoundCloud and went to bed. When they woke up the next day, the song had already gone viral.
This is how Billie's career began: in 2017 the EP
Don't Smile at Me
was released, the following year Apple named her
Newest Up Next Artist
, and a few weeks ago her debut album,
When We Fall Asleep Where Do We Go?
, was published, which features the hit songs
Bury A Friend
and
You Should See Me In A Crown,
at the top of the charts in the world. It's quite hard to define the exact music genre Billie plays, giving the great number of different influences and inspirations: Eilish grew up listening to
hip-hop and R&B
, which is clear in the musicality of her songs, but as a reference figure she often named
Lana Del Rey
, an influence particularly clear in the lyrics and in a melancholic mood the two artists share. Listening to Billie is hard not to think of
Lorde
of the early days, a soft, delicate and whispered voice that almost hides behind a more thick and layered musical structure, creating a strong - and winning - contrast between a strongly feminine vocality and more hard and heavy sounds. The aesthetic imagery of Billie is
dark
, at times
gothic
, she seems to be particularly fascinated by the subconscious, by the world of dreams, and above all by nightmares,
the maze of the mind is where she loves to lose herself
. Billie told that when she's writing she likes to wear a mask, she wants to become someone else, when she speaks about death, about killing and burying a friend, as she does in
Bellyache
, she does it as the character she's created, a character that can voice all her thoughts without consequences.
In two of the interviews mentioned before, Billie allowed the audience and her fans to find out about two aspects of her personality hidden until then.
At the Ellen DeGeneres Show
, in fact, Billie talked for the first time about her
Tourette syndrome
, something she's had for her entire life. After a YouTube video that was a sort of compilation of her all tics went viral, it was Billie herself to address her condition:
That's something I've lived with my whole life. And it's not anything different, I just never said anything because I didn't want that to define who I was. I didn't want to become 'Billie Eilish, the artist with Tourette syndrome'. I've also learnt that a lot of my fans have it, which made me feel kinda more at home in a way. And also I felt there was a connection there.
Just by looking at her Ig posts you can have a clear idea of Billie's style: a lot of prints, oversized silhouettes, logomania, neon colours, lots of rings and necklaces, and above all sneakers, tons of sneakers. A passion Billie talked about during an episode of Sneaker Shopping with Complex. At 11 years old she went to a thrift shop where she saw the first pair of Nike Air Jordan of her life: it was love at first sight. Over the course of the time she has become a real collector and sneakerhead, her favourite shoe is the Air Jordan 15 - one of the most hated sneakers of all times - and last year she starred in a Jordan Brand ad along with Russel Westbrook and Don C. Rumour has it that now Billie is reportedly collaborating with Jordan for the creation of a sneaker for women.
At 18 years old it's pretty rare to have such a defined and recognizable identity, which is one of Billie's strongest characteristics. The artist brought back a dark, almost emo imagery, revisited in a contemporary way, becoming the symbol of goth but nevertheless commercial pop. We can't foresee how Billie will deal with the fame, the attention, the pressure for a second album, but right now she's one of the most interesting talents of the last few years, and her
When We All Fall Asleep, Where Do We Go?
is one of the best albums of 2019.