Netflix just released the Beyoncé documentary trailer
From 17 April 2019 on Netflix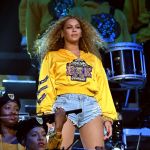 The 2018 Coachella Music Festival will mainly be remembered for the incredible Beyoncé show.
She took to the stage with such an explosive and outstanding performance defined by Jon Caramanica in the New York Times as "meaningful, absorbing, forceful and radical performance... rich in history, politically powerful and visually sumptuous".
Everything was perfect: the set design, the dancers' crew, the celebration of African American culture with the national anthem O Lift Every Voice and Sing and the words of Malcolm X and Chimamanda Ngozi Adichie, the costumes made by Olivier Rousteing from Balmain, so much so that many after seeing it have even renamed the Beychella festival.
Now the show is going to be the focus of Homecoming: a film by Beyoncé, a documentary that will show the artist's emotional journey behind the scenes, with unpublished images and in-depth interviews. A few hours ago the trailer appeared online, with an emotional introduction by the words of the poet and activist Maya Angelou.
Homecoming will arrive on Netflix from 17 April 2019 in all countries where the service is active.