ROSALÍA drops a new video
After featuring James Blake, the video of the track DE AQUÍ NO SALES (Cap.4: Disputa) has just been released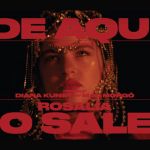 We thought we had enough good news about ROSALÍA for this week, after her featuring in the song Barefoot In The Park, contained inside Assume Form, the new album by James Blake, published on January 18th. Yesterday, however, the video of the song DE AQUÍ NO SALES was released, the fourth chapter of El Mal Querer, the second album by the Spanish artist which was inspired by Flamenca, an anonymous novel of the XIV century.
ROSALÍA has been at the centre of international pop music thanks to her sophisticated taste that contaminates flamenco with electronic, R&B and hip-hop sounds, also clear in DE AQUÍ NO SALES (Cap.4: Disputa). Opening the song the echoes typical of Spanish popular music, a lament mixed with the castanets and the aggressiveness of Rosalia, who rides a motorcycle on fire wearing a very sexy leather suit. The reference to Spanish iconography is also manifest in the jewels that characterize the singer's look in the video clip. These images, together with that of the burning windmill and the choreography, perfectly describe the aggressive woman of the song lyrics. The rhythm and the dance are alternated with images that float in an atmosphere of unusual calm, in which the artist is immersed in the dark, in a sort of pond, or sitting at a table with a wolf.
The taste of the world around which rotates ROSALÍA is always refined, and even the video, directed by Diana Kunst and Mau Morgò has a very specific style, almost like a fashion film.