Drake and Sfera Ebbasta are the most streamed artists of the year
Hip-hop reigns in the most streamed charts of songs, albums and artists on Spotify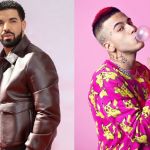 As every December, the various best ofs of the year, rankings, more or less interesting, start to arrive, which give us a snapshot of what we hated or loved the most during this 2018. Today is the turn of Spotify that reveals the list of albums, artists and songs most "streamed" of the last 365 days. By reading it we find out something easily understandable: hip-hop is the most loved and listened genre of the moment. The merit goes to Drake, the real king Midas of the sector, capable of turning everything he touches into gold. The Canadian rapper inherited from Ed Sheeran, thanks to almost 8 million streams, the role of the most listened artist in the world, but also those of the song, that is God's Plan, and of the most listened record with the double album, Scorpion, 25 tracks full of revelations (like his paternity) and important collaborations, from Jay-Z to Michael Jackson. After Drake, the other 4 most searched names are, in order, Post Malone, XXXTentation, J Balvin and the former 2017 winner Ed Sheeran.
What about the women? Less and less considered than their male colleagues. Ariana Grande stands in the category for her 48 million monthly streams from above; followed by Dua Lipa, Cardi B, Taylor Swift and Camila Cabello. If you are in Italy there is, however, a very high probability that your ears are accustomed to the voice of Sfera Ebbasta, the true king of Belpaese: his are the most listened album, Rockstar, and two songs in the top five, Cupido ft. Quavo and Tesla by Capo Plaza with whom the rapper of Cinisello Balsamo collaborates. In our peninsula the dominion of hip-hop is even more absolute, divided between the aforementioned Sfera and Capo Plaza, as well as Gemitaiz, Gué Pequeno and Salmo.
A fun fact: the ranking of Spotify signals among the users of the streaming service a growing interest in Latin music, led by J Balvin, Bad Bunny and Ozuna. Should we expect a similar invasion in Italy?