The "Next Door" streetwear of Frah Quintale
Ingredients: a bit of Graffiti Pop, a pinch of nostalgia 90s and an home made merch
Frah Quintale needs no introduction. We know him so well that if we ever run into him on the street, it would be almost natural to greet him. Maybe it's because of his good-natured attitude, which makes him look as a "friend of a lifetime" that makes us want to have a little talk with him. Or, more likely, it's because his name is on everyone's lips and ears, thanks to success, In fact, Frah Quintale, stage name for Francesco, is still been on the top of the success thanks to an amazing album, Regardez Moi (Undamento, 2017), some good featurings - like Missili with Giorgio Poi and Chapeau with Carl Brave - and many other icing on the cake of his career - such as having opened Calcutta's show at Domenico Francioni Stadium in Latina.
But what is Frah Quintale's secret? Easy: he was the first to combine, with success and brilliance, a certain street attitude to the Italian indie songwriting of the moment. Pop atmospheres and a large dose of hip hop culture go hand-in-hand with the musical trends of the Italian indie scene, from which Frah takes the codes of writing and the directness of the lyrics. The songs are catchy, that kind of songs to sing along hard out with our friends, but they sound very good even on the dancefloor - thanks to the production curated by Ceri, already Coez's collaborator. It is no a coincidence that Frah Quintale is the greatest exponent of one of the new genres of music who's climbing the charts, namely the Graffiti Pop.
So, we all agree that Frah Quintale combines Italian songwriting and hip-hop, but what does his wardrobe say about him? Like most of his colleagues, even our hero from Brescia favors casual clothing: no sartorial jackets, elegant trousers and star-studded rockstar style; rather large sweatshirts, comfy overalls, sporty jackets and colored t-shirts. And here comes his street attitude: his uniform, in fact, is an alternation of sweatshirts, jackets by adidas Originals in many different colors - but the green seems to be the constant - and t-shirts of all kinds, from pop, monochrome and even tie-dye patterns in perfect Nineties mood. Inevitable the hat, from the benie for the winter to the cap, and tube socks always up as the Californian school wants.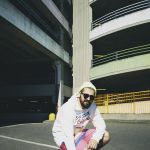 And, like any very popular musician, also Frah Quintale has its own official merch. Available on the Undamento website, the clothing line includes T-shirts and sweatshirts with graphics inspired by the "Regardez Moi" album, available in various shades and classic white, plus a special gem: a t-shirt with a print designed by Frah himself.
Frah Quintale is a case of casual streetwear, without ostentatious brands and trends of the moment, who winks to the Nineties, especially those overseas. Not only his music, but also his image openly declared how much the rapper appreciates a certain 90s mood, and not only his clothing is proof of this. Just take a look at his Instagram profile or online content to understand how much Frah is a nostalgic of the aesthetics of the past: polaroids and analog shots seem to accompany every moment of his life, private and public, from photos on tour, on stage or backstage, to those with drinking buddies. And don't turn your nose thinking about the same sentimental use of vintage, for God's sake, in fact, everything is always declined with the usual carefreeness and irony of Frah Quintale - and of the whole Undamento's crew, let's face it -, a sort of visual medium that makes the fans more involved and close to their idol.

As well as the drawings of the musician itself, who draw on and pay homage to street art and Graffiti Writing from a few decades ago - and which seem to be the aesthetic thread of Frah Quintale's project. But this is not a marketing trick, rather the need of the songwriter to combine his passion for music with the artistic one, which, also in this case, reflects the association between urban attitude and pop songwriting. A winning combination who has inspired a real new Italian musical wave, the Graffiti Pop, characterized by pop tunes, club rhythms and Nineties vibes mixed with the contemporary songwriting tradition - see Coma_Cose, Masamasa and Mecna. The stylistic codes of this new genre would be worthy of a true visual semiotic study: the figurative level presents a casual streetwear, a certain taste for the Nineties aesthetics and references to pop culture, all conveyed on the plastic level by dualitties hip hop/songwriting, rap/melodic, street attitude/introspective lyrics. Just a little academic parenthesis to say that the Graffiti Pop makes everyone agreed.

So, Frah Quintale seems to be the perfect synthesis of an "affordable" streetwear, without brands and superstar trends. A simple style, but direct, without patinated frills, which allows just a pinch of refinement and the right dose of self-irony that never hurts. An image, that of Frah, which makes him a star "in which everyone can identify with", just like his lyrics, in which it's impossible not to identify with at least once. And that's why we like him so much.