Rosalía is the future of Spanish music (and not only)
And her unique mix of flamenco and pop
The latest pop music phenomenon arrives - surprisingly - from Spain, a Country whose cultural landscape has lived through a new golden age, also thanks to Tv series like La Casa de Papel and Elite. Now it's time for a 25-year-old artist to shine, someone who was able to fuse the Spanish music tradition into a brand new genre.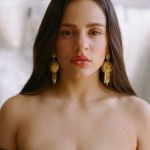 Rosalía Vila Tobella is the breakthrough artist of Spanish music. Born in 1993 in Catalonia, Rosalía took one of Spain's oldest and most traditional arts, flamenco, and turned it into in something absolutely new and innovative, by adding electronic, R&B and hip-hop accents. An unprecedented synthesis for international and Spanish music, that has met critiques from the most traditional audiences. Rosalía's name started getting known in 2017, and two viral singles, Malamente and Pienso En Tu Mirá, anticipated her second album, El Mal Querer, which came out a few days ago. But Rosalía has been preparing for this moment for years.
Ten years spent with a flamenco teacher learning the difficult melodies of the genre and a specific use of the voice. For her flamenco is truth, "It's all in there, it's the music of the people, of the streets, it's popular, it has roots, it's the celebration of spirituality, love and bad mood. It's a rich and beautiful music." These years of study helped Rosalía to create an immediately recognizable identity and aesthethic, perfectly clear in her visuals. She took her risks, she didn't rush for a record deal, she took her time to create her version of an electronic flamenco, without being afraid of experimenting and venturing into undiscovered lands.
For her brand new album, Rosalía drew inspiration from a XIV century anonymous work, Flamenca, which recounts the story of a girl who marries a man so jealous that keeps her imprisoned. The songs of the album are divided into real chapters, as in a book, and they represent the answer to that toxic and bad love. "My personal answer lies in the fact that the female protagonist of El Mal Querer, at the end of her journey, is stronger, more mature and powerful. This is how I want to be, as a woman and as an artist." A female empowerment message she learnt from her mother, Beyoncé, Björk, Lauryn Hill, as well as those flamenco singers who didn't care about their look, they just wanted to be real.
After the collaborations with Pharrell and J Balvin, and the praise received from Dua Lipa and James Blake, a few nights ago at the Latin Grammys Rosalía was strong of her five nominations, and took home the prize for 'Best Urban Fusion Performance' and 'Best Alternative Song' for Malamente.
Flamenco has never been so pop.