Rosalía collaborates with J Balvin on a reggaeton track
Along with a visual with awesome outfits
In a very short time, Rosalía has become one of the most interesting artists of the international music scene. The young Spanish singer has managed to renovate and modernize a traditional genre like flamenco, adding pop and R'n'B sounds. With her album El Mal Querer Rosalía has conquered both critics and audience, taking home two Latin Grammys a few months ago. After having worked with James Blake on one of the best songs of his new album, Rosalía is now ready to explore new territories, specifically reggeaton, with her new single featuring J Balvin.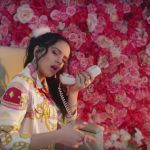 Con Altura is a tribute to one most classic types of reggaeton: playero, which is usually played on the beach. When I was little I loved listening to reggaeton and it would have been natural for me to eventually write a song of that type, but I didn't want to jump into things ahead of their time. I'm very proud of this song because, even if it's reggeaton, it still has a subjective and personal style. I immediately showed it to Jose (J Balvin) and he fell in love with it, adding his fresh and pure touch.

Rosalía
The visual of the song, set inside a flying aeroplane, modernise, even more, the classic flamenco aesthetic: the traditional red dress with frills worn by dancers is now replaced by a tight red catsuit with a flame-shaped top. Rosalía is the reflection of an exaggerated and over-the-top style, rich in details and decorations: the artist mixes Gucci sandals, oversized Louis Vuitton pants, Versace mules and entire outfits, along with latex skirts and catsuits.
Rosalía will now go on tour in the US - many dates are already sold out - and she will be one of the headliners at the upcoming Coachella festival.