Kanye West sounds G.O.O.D.: two new albums and a shower of collaborations
Mr Yeezy will work with Nas, Kid Cudi, Pusha T and Teyana Taylor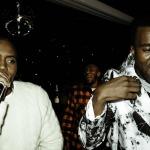 The retreat period in the mountains of Wyoming must have benefited greatly to Kanye West, because, since he returned, at home and on Twitter, he no longer stops.
He writes philosophy books (popping one sentence after another on social media), launches prototypes of new Yeezy sneakers and, above all, announces the release of a rain of musical projects.
The most important are two of his new albums: June 1 will be released his solo work (still untitled), which will contain seven songs, while a week later will touch the one made with rapper Kid Cudi which will be called Kids See Ghost (it seems that the couple is forming a new group with the same name).
Then, again with a series of tweets, Kanye reveals his role as producer in the upcoming Pusha T albums, due out on May 25; by Teyana Taylor (the release is scheduled for June 22nd) and, a few hours ago, by Nas, on sale since June 15th.
It is not the first time that West and the iconic artist collaborate together, it has already happened for Poppa Was a Playa, Still Dreaming and Wave Gods by French Montana.
Ready to listen to new music?
I'm hand producing all the albums I tweeted about. Been chopping samples from the sunken place Pusha May 25th My album June 1st me and Cudi June 8th and Teyana June 22nd and oh yeah...

— KANYE WEST (@kanyewest) 22 aprile 2018