Here's everything you need to know about the Beyoncè live at Coachella
Queen B. sets the Indio festival, which becomes #Beychella, afire
Last night Beyoncè ignited Coachella with amazing live, transforming the festival into #Beychella.
Beautiful and powerful, in a series of outfits by Balmain, she opened the show with a Nefertiti style look singing Crazy In Love and, one after another, all her most famous hits, from Single Ladies (Put A Ring On It) a Déjà Vu in a duet with her husband Jay-Z or Get Me Bodied with her sister Solange.
Supported by a 100-person crew, made up of dancers and bands, she made history by becoming the first African-American woman to be the headliner of the event and pointed it out with a tribute to the Black power quoting Malcolm X, Chimamanda Ngozi Adichie, Nina Simone, Fela Kuti.
The reunion of the Destiny's Child completes a stunning set.
Here's everything you need to know about the night of Queen B.
Live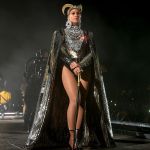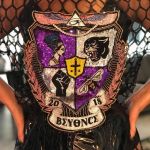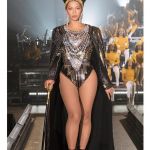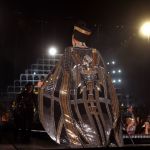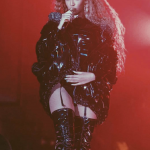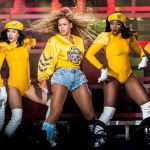 Beyoncè goes on stage like a novella Nefertiti, intones the notes of Crazy In Love and, suddenly, it is clear to everyone that they are about to witness an amazing performance.
Accompanied by a crew of 100 elements between bands and dancers, Bey claps his hands on his knees to the rhythm of Partition, dances on the notes of Baby Boy, hips with his sister Solange in Get Me Bodied, winks at her husband in Déjà Vu and, one after the other, sings many of his hits, from I Care to Do not Hurt Yourself, from Formation to Single Ladies (Put A Ring On It), from Diva to Love On Top. Without forgetting the pride of Black with the cover of Lilac Wine by Nina Simone or with Lift Every Voice and Sing by James Weldon Johnson, a song from the early twentieth century called "The national anthem of African Americans".
When Kelly Rowland and Michelle Williams join her on the stage reuniting the Destiny's Child, the public goes into a frenzy.
"It's Beyoncé's night" someone writes, "we are witnessing a page of history" comments someone else. They are both right.
Last year Beyoncé was supposed to perform at the festival, but she had to cancel because she was pregnant and had been replaced by Lady Gaga, but this time, the wait has paid off.
The oufits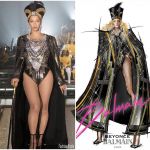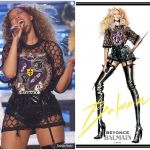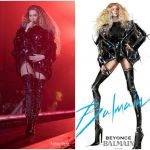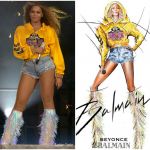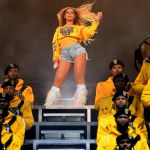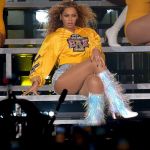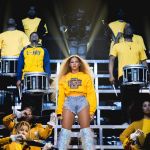 120 minutes of performance and 5 custom Bailman outfits.
Beyoncè makes her triumphal entry on the stage dressed as Nefertiti, with a black body covered with crystals, combined with a cape embroidered with the Egyptian sovereign, an important headdress, a black stick with golden decorations, flesh-colored fishnet stockings and vertiginous heels.
After just one look it is clear to everyone that she is the true queen of Coachella, but also of pop.
Change of scene and the diva becomes more street with yellow crop top sweatshirt, Coal N Terry denim shorts and boots with fringes and crystals by Christian Louboutin. In perfect harmony with dancers and band.
The show warms up and even the outfits get hotter.
Bey chooses a pseudo-sadomaso style, all in black latex, composed of cuissardes boots, tight body and puffed sleeves jacket. Same clothes, but with a simpler body decorated with a kind of coat of arms for the duet with Jay Z.
Both during the performance with Solange, and for the reunion with the Destiny's Child the pop star opts for a camouflage look and a one-shoulder bodysuit covered with sequins.
A curiosity: many fans have noticed that, between a song and another, Beyoncè has had time to change the nail polish, once gray and then total black.
Jay-Z vs. Solange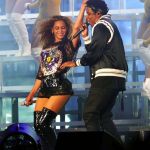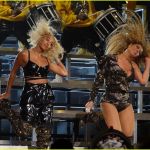 A full set of guests for Beyoncè.
While in the front row Rihanna attends ecstasied to the show, on the stage together with the Texan star they alternate not only the other members of Destiny's Child, but also the family members.
Bey first performed with her husband Jay-Z in Deja Vu, one of their most famous hits, giving an anticipation of what will be their On the Run Tour 2 that will bring the live couple around the world.
Then it's Solange's turn. The two sisters are hopping, twerking and dancing frantically as they sing Get Me Bodied.
Destiny's Child

Their last performance together dated back to 2013, during the Super Bowl and last night the magic was repeated.
Even if for a few minutes Destiny's Child, the 90s historical group formed by Beyoncè, Michelle Williams and Kelly Rowland are returning to make fans happy, singing as Say My Name, Soldier and Lose My Breath.
A perfect moment of nostalgia.
Black Power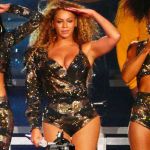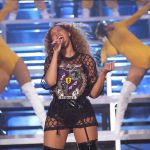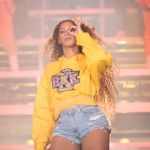 "Coachella, thank you for allowing me to be the first black woman to be the main performer," said Beyoncé, before singing "Run the World (Girls)".
It's just one of the many moments in which the star has emphasized Black pride.
Bey performed the covers of Lift Every Voice and Sing, an early twentieth century song often called The National Anthem of African Americans, then "mash-upped" with Freedom; Lilac wine by Nina Simone; Zombie by Fela Kuti.
In different parts of the show you could also hear the words of Malcolm X and Chimamanda Ngozi Adichie.