Jay-Z explained every single track of his new album "4:44"
Released at midnight exclusively on Tidal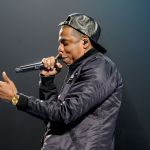 At midnight, like magic, the highly anticipated Jay-Z 's new album, 4:44, has been released.
After many anticipations, mysterious previews and rumors around the 13th studio album by the American rapper, you can finally listen to it exclusively on Tidal – for the moment. According to some rumors, 4:44 would be the rapper's reply to Beyoncé's album, Lemonade – who put the private life of the couple under the public spotlights.
To remove all the doubts, Jay-Z has released a special interview with iHeartRadio, by which he gives some explanations of each single track of his new album, for the happiness of his fans and curious.
Here's all that the rapper has to tell us about the 10 songs of 4:44:

"Kill JAY-Z"
"The first song is called 'Kill JAY-Z' and obviously, it's not to be taken literally. It's really about the ego. It's about killing off the ego, so we can have this conversation in a place of vulnerability and honesty."

"The Story of OJ"
"'The Story of OJ' is really a song about us as a culture, having a plan, how we're gonna push this forward. We all make money, and then we all lose money, as artists especially. But how, when you have some type of success, to transform that into something bigger."

"Smile"
"'Smile' is just what it is. There are gonna be bad times, and those bad times can do two things: they can get you in a place where you're stuck in a rut, or it can make your future that much better because you've experienced these things."

"Caught The Eye"
"'Caught The Eye' is a song that's dealing with just being aware of your surroundings. There's a line in it, and it says, 'Your body language is all remedial, how could you see the difference between you and me?' Just being so sharp about your surroundings."

"4:44″
"'4:44′ is a song that I wrote, and it's the crux of the album, just right in the middle of the album. And I woke up, literally, at 4:44 in the morning, 4:44 AM, to write this song. So it became the title of the album and everything. It's the title track because it's such a powerful song, and I just believe one of the best songs I've ever written."

"Family Feud"
"'Family Feud' is about separation within the culture. Like, new rappers fighting with old rappers, saying all these things. So, the line is, 'Nobody wins when the family feuds.'"

"Bam"
"The song 'Bam' with Damian Marley it's just jammin', it's just like the song. But it's secretly Shawn Carter saying, 'Man, you need a bit of ego.' It was because of me and the things that I've done, this is JAY-Z saying you needed a bit of ego for us to arrive at this point."

"Moonlight"
"The hook is 'We stuck in La La Land/Even if we win, we gonna lose.' It's like a subtle nod to La La Land winning the Oscar, and then having to give it to Moonlight. It's really a commentary on the culture and where we're going."

"Marcy Me"
"'Marcy Me' is a nostalgic walk through Marcy, and it's about that hopefulness, that feeling of 'Man, can I really do this? Can I really be one of the biggest artists in the world?' You have these dreams, 'Can I be one of the biggest basketball players?' We have these dreams."

"Legacy"
"The song is just about what it is, it's like a verbal will. Just a song about speaking to my daughter. She starts the song off, and she says 'Daddy, what's a will?'"