Lana Del Rey's "Lust For Life" is a message of love to all her fans
While we're waiting for the release of the singer's new album, here's what we can expect from it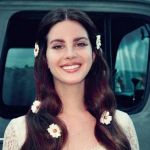 Lana del Rey's new album Lust For Life has not yet come out, but already seems to have marked a turning point for the singer's career.
Over the last few weeks, the artist has released some details of his new studio work – the fifth, after Honeymoon (2015) – anticipating that it will be an album "retro sensitivity with a futuristic flare", with 1960s atmospheres and the struggling, melancholic singer's voice who is the only one protagonist. Some special guests have also been revealed to take part in the album, including Sean Lennon, Miles Kane and The Weeknd. The latter one appears in the track Lust For Life, the second single extract of which the official video came out yesterday, where a charming, magical Lana De Rey conquers with its charm The Weeknd, dancing on the big-size banner "Hollywood" under a sky full of stars, all shot with a film filter that remembers, especially the beginning, the old 60s comedies – and specifically The Love Witch (2016).
Nothing new, maybe, but there's air of changing for Lana Del Rey. In fact, Lust For Life seems to want to sweep away the melancholy and sadness that have characterized the singer's work. The cover of the album was already a good clue: Lana Del Rey smiles, smiles as she rarely did in the past, smiles like never on the covers of her previous albums. It's strange how to see Wednesday Addams smiling, but the singer seems to convey a new, radiant vitality. Someone has already labeled Lust For Life as the anti Born To Die and the singer seems to have confirmed in the lines, by saying:
"I made my first 4 albums for me, but this one is for my fans and about where I hope we are All headed "

And it looks like this as if the singer had come out of the emotional-emotional storm that for years has overwhelmed her, leaving space for more "socially aware" and positive lyrics.
So, an album who wants to be a message of peace and optimism towards her fans, during a delicate historical moment in which economic crises, cultural struggles, and social-political changes constantly bombard our lives. And Lana Del Rey has decided to get out of her introspective bubble to become a fascinating good witch who, with her voice, launches spells of positivity and love for all her fans.