Solange will perform at Guggenheim Museum with an interdisciplinary performance
The artist will present a new unpublished work in occasion of the Red Bull Music Academy Festival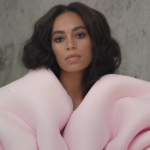 The apple doesn't fall far from the tree. Solange Knowles, Beyoncé sister, released her last album A Seat at the Table last year, conquering critics and audience.
Next May the eclectic artist will come back to host an "interdisciplinary performance piece and meditation", an art and musical interactive exhibition, based on her last work in studio, that will take place at Guggenheim Museum in New York, in collaboration with Red Bull Music Academy Festival.
The performance will show on next May 18th, but tickets are already sold out – in a perfect Knowles' style.