Why Zoolander is still a modern film despite the years
It's not just about blue steel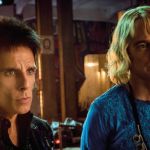 Zoolander is back, and it doesn't seem to be going away anytime soon. The film, written, directed, and starred by Ben Stiller, is a window into the world of haute couture and male modeling, and it has been fished out by social networks with memes and viral audios on TikTok. Now is the perfect time to rediscover a masterpiece of levity straight from 2001 that can still teach us something. It is impossible to talk about Zoolander without considering its cast and cameos. The film showed formidable intuition in identifying characters who, if not already, would become icons in the future (for better or worse, think of Donald and Melania Trump): David Bowie, Paris Hilton, Natalie Portman, Lenny Kravitz, just to name a few. Also, did you recognize Andy Dick, Justin Theroux, and Alexander Skarsgård? Eyes wide open and Blue Steel in the barrel.
Zoolander and fashion, from revivals to modernity
Zoolander fits perfectly into the great revival of that short but aesthetically connoted and rich period that is the transition from the 1990s to the early 2000s. Some call it Y2K, but maybe we should start calling it Zoolander-core. It is precise to this Zoolander-core that is connected to another very important aesthetic aspect, which can be further expanded and which goes beyond the fashionable taste for revival and constant, rehashed, digested, and commercialized revival. Zoolander is an exaggerated film, maximalist to the limits of absurdity. Suffice it to recall the looks of Jacobin Mugatu (and his dog), and of course, Derek Zoolander and Hansel, who represent two opposite ways of living, dressing, and understanding life and career, and for this reason in constant struggle. Zoolander is in perfect agreement with an all-Tiktokian current that does not yet have a name, but which is characterized by a taste for mixture, for exaggerated layering, for messiness, in stark contrast to both the idea of the sexiness of the 1910s and the new currents of clean and vanilla girls. This new current is inspired by thrifting, vintage, reuse, DYI, art, literature, and even children's cartoons. It is characterized by improbable combinations, colorful and dissonant make-up, and a plurality of patterns, volumes, and textures that reject any matching rules and instead seek the unhinged. How can we not think of Hansel's colorful, furry-collared jackets? Or Derek's all-red ensemble in the walk-off scene? And the jumper Hansel wears to the funeral, which we can now find in an Instagram nook reproduced by a tiny brand at a dizzying price?
An unexpected analysis
Let's talk about Derek and Hansel: these two, although strongly dumb, are positive characters. Wholesome, almost. Prompted by journalist Matilda Jeffries they problematize, communicate their feelings, and even manage to make up, becoming friends. If they make a mistake, they apologize. It was 2001, yet this model of alternative masculinity offered by Zoolander is still a shining example of what can be done when stereotypes are put aside and, by the way, is very popular with younger audiences. Derek and Hansel, defined in today's terms, are bimbos, babygirls, and alewives, written by a woman and full and proud representatives of the female gaze. And to think that Ben Stiller and Drake Sather wrote them! The surprising thing is that Zoolander doesn't stop there and goes one step further. In recent times, there has been more and more talk about the (numerous) issues within the fashion system. Starting with the image it offers of itself through the choice of its aesthetic models (and what they do in the minds of its users, who are often very young) and ending with considerations on the exploitation of labor, the crazy cycles that creatives and workers have to endure to keep up, the unbridled drive for consumption that, we have since discovered, is unsustainable. Thanks to Zoolander, we realize that these things were already being talked about in 2001, and clearly and articulately, to boot. Impossible not to wonder what it takes to make this awareness take root once and for all. In the meantime, we are on the right track, and perhaps it is also thanks to Zoolander and its adorably naive and kitschy way of putting the matter in its most basic terms, without ever losing the point.
Zoolander and TikTok, a question on meme-ability
Finally, to all this discourse we add the crazy variable, TikTok, the icing on the cake. In 2023, trends are decided on this platform. Whether they surface naturally at the hands of imaginative users who have had a stroke of genius or are driven by external forces, every second new element enters this great tornado that is the mechanism of virality and come out empty. In the process, someone gets rich. As you can easily guess, anyone whose job it is to sell something (whether it is an accessory, a character or a song makes very little difference) must keep this in mind. That's why everything seems to be manufactured to go viral. Zoolander manages to be meme-able before meme-ability was even a concept known to the mainstream. It is funny, endlessly quotable, and constructed in such a way that it is easy to remember and re-purpose in different sauces. It is a 2001 film that seems to have been made in 2023, but without pretense or force, without being a slave to TikTok, and without being derivative. It fits perfectly into a circuit that is unfamiliar to it, with naturalness. Sorry, bro, but it's time for a rewatch!