Casio earned $70 million thanks to Shakira
Media exposure worth $40 million for Rolex thanks to social media conversations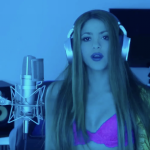 «They traded a Ferrari for a Twingo, a Rolex for a Casio», reads an excerpt from Shakira's latest track, Bzrp Music Sessions #53, released on YouTube on Thursday 12 January. The result was a case study that went viral on social media - fans and non-fans alike were fascinated by a reconstruction of the facts that went far beyond the traditional boundaries of gossip - with the intensification of a provocative exchange between the Colombian artist and her ex-boyfriend Gerard Piqué adding to his appeal. Since its release, the music video has been viewed more than 140 million times, making it the most viewed video on YouTube and the most listened-to song on YouTube within 24 hours. The social media conversations also had a positive impact on the media exposure of the watch brands mentioned in the song: $70 million for Casio and $40 million for Rolex.
According to the programme TV
Socialité
, Shakira allegedly became suspicious of her partner when she noticed that she was running out of jam in the cupboard too quickly. So she hired a private detective and allegedly discovered Piqué's parallel love affair. Hence the singer's
fury
, using the name of two well-known watch manufacturers, Rolex and Casio, as a reference to the Spanish athlete (and others). A
mention
that increased awareness and interest in both watch brands, with
Casio
surpassing Rolex, according to
WWD
reports. According to
Launchmetrics
, a software and data analytics company specialising in fashion, beauty and luxury, the value of the verse earned Casio
$70 million
in media impact value. Of this, $41 million was generated by social media conversations, which accounted for 59 per cent, while online mentions are estimated at $29 million.
Rolex
received an MIV of
$40.5 million
, of which 20.8 per cent (51 per cent) came from social media and $19.7 million from other online sources. The video itself generated a total MIV of $8.7 million.
According to
Google Trends
(as of Tuesday 17 January), the searches "Shakira" and "Pique" ranked third and fourth, respectively, in global trending people over the past seven days. Meanwhile, searches for
Twingo a
nd Casio reached five-year highs globally following the release of Shakira's song - "casio vs. rolex" saw an increase of 1,800 per cent. A reconstruction of the facts, where the use of the conditional is of course obligatory, but not when it comes to dates and watches.