Give me five: the best 5 moments of MFW
Milan Men Fashion Week FW17Milan Men Fashion Week FW17
Milan Fashion Week is already over. These days on runways different manifestations of masculine style's concept have alternated. If the military inspiration was the first, there is someone who reflects on contemporary society as Prada that invokes a return to simplicity and truth or Moschino where Jeremy Scott joins Renaissance frescoes and intergalactic battles. Marras traces his creative story telling a story between Napoleon officials and Tsarist admirals. Relaxed silhouettes, garments often oversized and crumpled draw the outlines of a new male figure, more relaxed and easy, but always cool as underscore the proposals of the young brand Sunnei.
What is the best show and the best collection? Here the 5 most interesting names for nss.
#1 Prada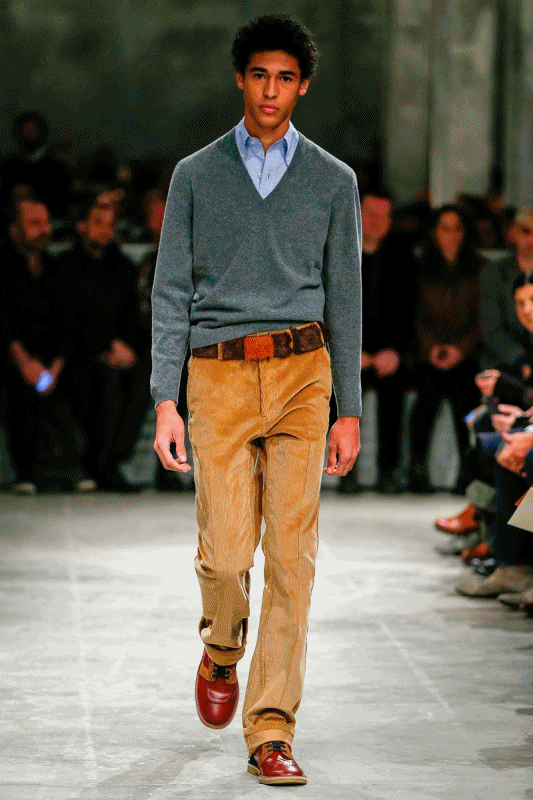 "No more exaggerations and excesses, I feel there is need for normality and simplicity to combat violence that surrounds us. Exaggerations stewed, the power disappointed, violence is all the rage and even in fashion there is a need for reality, normality, simplicity"
. Miuccia Prada's words. Everything becomes clear when in the Milanese space in via Fogazzaro set up with spartan benches, formica kitchen tables and beds, the show begins and you see a dress model with a gray V-neck sweater, blue oxford shirt and beige corduroy pants.
It's the first note of a hymn to simplicity
composed of seventy trench, tassel blazers, tweed bomber, pull with naif or geometric designs, corduroy suits, crochet scarves, fur trimmed totes and furry Nanook boots with pom-poms.
The subversive element?
The necklace made with twigs or shells found on the beach. So the designer supreme snobbery, which allows her to raise to extreme luxury even the most trivial detail, transforms a potentially neo-hippie collection in a search for anti-fashion freedom.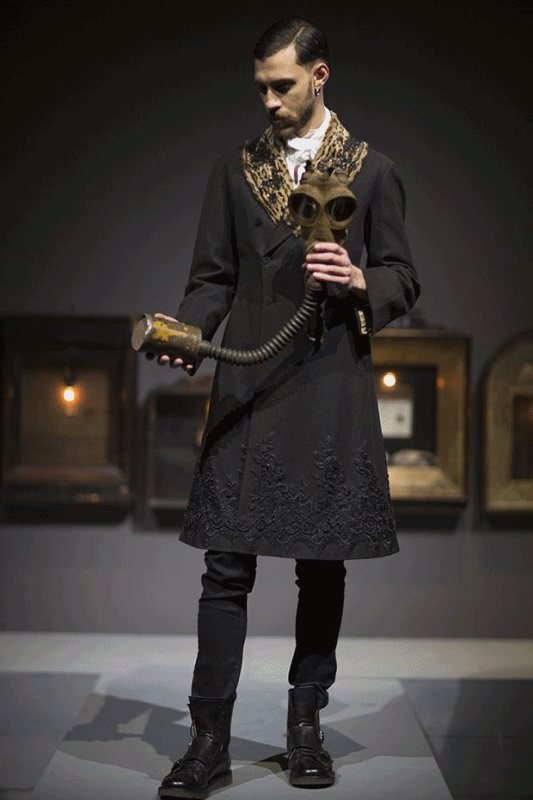 Art and fashion.
In Antonio Marras these two entities are based naturally
, creating a fascinating, charming, irresistible hybrid. Each collection reveals all the beauty of this creature, turning the catwalk in a dream, a fairy tale, but in the last fashion week in Milan this little miracle touches new heights. The show takes place in the Palazzo della Triennale in Milan, the same set of the exhibition
"Nulla dies sine linea"
dedicated to the Sardinian designer. Here with a long hour and a half performance seventy performers, actors, dancers and models walk metaphorically and literally in the mind Marras, beween drawings, sketches, memoirs, overlapping fragments, deconstructed and re-contextualized as the clothes they wear. Encrustations of embroidery, stitching, lace, jacquard, chiffon, damasks, brocades, purple, brass, lead, gold, ivory, sand, double-breasted jackets, wide trousers. The rigor of the military style meets romance under the inspiration of Sergei Paradznov. Because for Antonio Marras:
"need excess, the eccentricity against the commonplace, banality and uniformity"
.
#3 Marni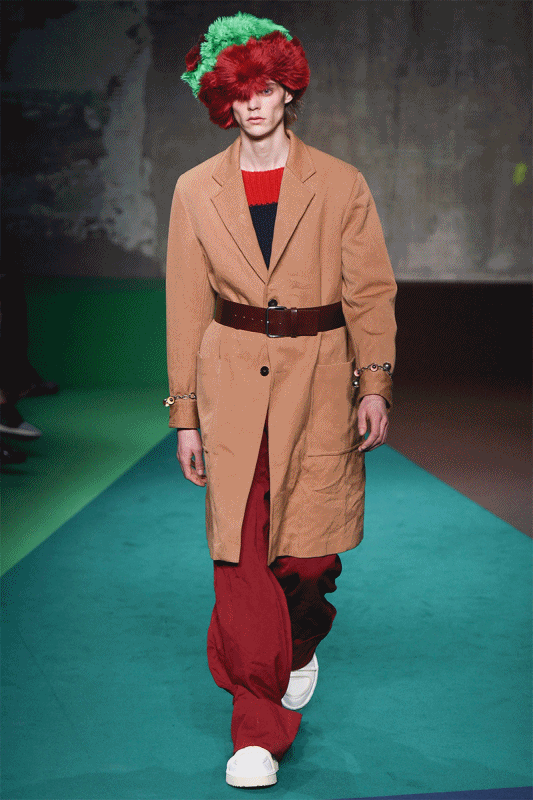 At Marni debuts Francesco Risso
, new creative director after the retirement of Consuelo Castiglioni. His debut? Wrinkled, yet intriguing. The man mixes codes, materials and prints, outlining the young generation, informal features. There are quilted pants and other large and Scottish, striped brought under voluminous fur, plaid shirts, Linear jackets with leather applique and fur, belts hydraulic, shapes reminiscent of pajamas and vivid colors. Behind this collection as told by the same Risso
"There's just the idea of watching from the point of view of a child. Explore a binary code. A boy took to type on the keyboard, a male figure by new manhood, a tender and vulnerable boy"
.
#4 Neil Barrett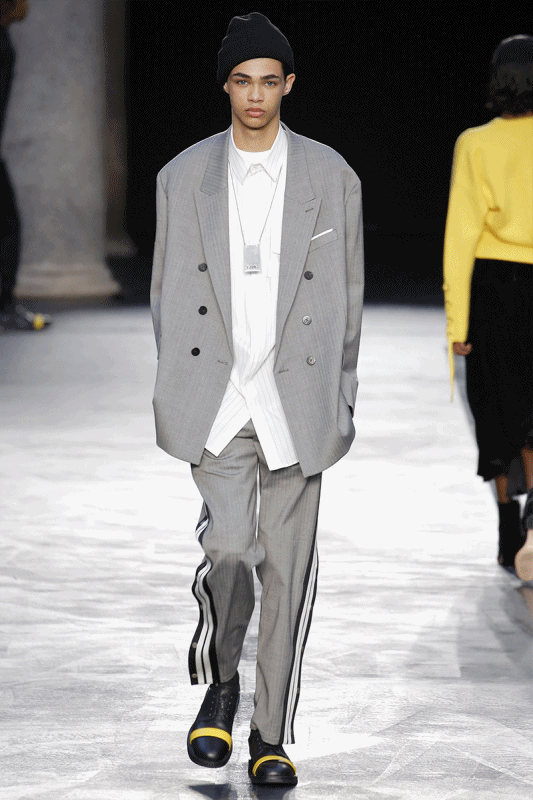 For the collection for next autumn-winter Neil Barrett reworks its tradition in a contemporary way
. The designer contaminates tailoring with sportswear items and new proportions: the jackets, which are denim, double-breasted or biker, mingle with the jogger pants, knitwear with coats from the shoulders exaggerated. The palette consists of shades of gray, black and white, broken by orange accents, blue and red.
The inspiration that emerges from silhouettes printed on garments, comes from the 80s, groups like Cure and Siouxsie and the Banshees of which Barrett was and is a fan
.
#5 Sunnei

Sunnei, brand founded in 2013 by Simone Rizzo and Loris Messina, carries a young winter collection, joyful, hyper relaxed and cool, defined by the designer duo
"the image of a group of teenagers who run away from home to go to a party wearing the best dresses of their wardrobe"
. And what are these leaders? Ultra contemporary pieces. Good tailoring bill mixed with shapes inspired by street style and punchy prints: heavy sweaters, fur coats, raw denim, graphic tees, wide leg pants and oversized cotton shirts, in a peach, yellow, olive, brown and blue color.