TANZPOL
Interview with Paul Hameline
Rebel, charming. Paul Hameline is the enfant terrible of the international runways. A modern Sid Vicious, as Vogue.com described him, yet much more aware of his (good) look.
20-year-old, Parisian, he was noticed by Eva Gödel (Tomorrow Is Another Day's founder) while withdrawing money from a bank at Le Marais in 2014, and since that moment his career took off, as well as his friendships. Demna Gvasalia, Pierre-Ange Carlotti, Clara Deshayes, Mica Arganaraz. Names that will sound (very) familiar to you if you gravitate towards the fashion system these days.
Among his bffs there's also a certain Lotta Volkova, the Russian stylist who helped Vetements and Gosha Rubchinskiy become what they are today, and with whom he launched a music project: TANZPOL.
They'll both be in Florence on the occasion of Pitti Uomo 90, where they will play live at HELL in Crisco on the night of June 15. We interviewed him to find out what lies behind the coolest DJ duo of the moment.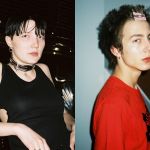 #1 How was TANZPOL born and where does its name come from?
TANZPOL was born not long after Lotta and I first met. It was initially a party we threw in my basement, and evolved in a DJ duo shortly after. 'Tanz' means 'dance' in German, so it would literally be 'Dance Paul!'. At the same time it means 'dancefloor' in Russian.
#2 You both work full time in the fashion industry. Lotta as a stylist and creative consultant and you as a model. Do you find it hard to do both things (music and fashion) at the same time?
We're not doing music professionally speaking, we play exclusively for our friends and events that make sense. We just want to have fun and make people enjoy their night. So no, at the moment it's easy to do both things (music and fashion) and more at the same time.
#3 Which role does the soundtrack play in a fashion show? For which brand/designer would you like to compose one?
The soundtrack of a show is a key element that is as important as the venue, the casting and the rest. It should be strongly discussed and should make as much sense as it can. For instance, not having any music is as much of a soundtrack as having some.
#4 When you don't play in clubs, which music do you like to listen to? Who are you obsessed with at the moment?
The music I play in clubs is the music I love, meaning that I do listen to it – quite often actually – when I'm alone. Followed by any sort of industrial, EBM, techno, new beat, acid house, experimental music, no/new wave and classical music. Lately I've been re-listening non-stop to the Nine Inch Nails' 1989 'Pretty Hate Machine' album.
#5 Among Vetements' members there's also DJ Clara 3000, who's been working in the music industry for years now. Did you ask her some advice at the beginning?
Yes! And I still ask her a lot of questions. Each time I play and she's around she teaches me little tricks.
#6 Projects for the Summer?
More or less yes. I'm gonna head to Spain with friends, then to the south of France. I'll also try to go to New York because it's been a while, or California, and will do a road trip in Iceland.