Iceberg AW15 campaign
polaroids by Olivier Zahm
The celebrations for Iceberg 40th anniversary go on.
With his iconic polaroids Olivier Zahm, Purple Magazine founder, continues and renews the brand's dialogue with the world of art and culture which photographer Oliviero Toscani started in the 80s with his iconic "I Contemporanei" ad campaign. The set this time is the French capital, where some of the characters who most embody the innovative spirit of the brand are shot: Rochas and N°21 designer Alessandro Dell'Acqua, Jean-Charles de Castelbajac (Iceberg founder in the 70s), London-based DJ Mary Charteris, Parisian artist André Saraiva, British model and actress Lily McMenamy, French actress and filmmaker Joana Preiss and Chinese artist Yi Zhou.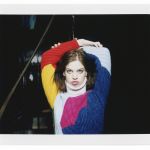 An heterogeneous group reunited under the lens of Zahm and the styling of Purple Fashion Director Caroline Gaimari.
Photography: Olivier Zahm, Gianni Oprandi
Art Direction: Olivier Zahm, Gianni Oprandi
Styling: Caroline Gaimari
Video: Julien Carlier
Hair & Make-up: Sergio Corvacho