The best five things about Milan Women Fashion Week
Give me five
Streaked, irreverent, sublime. Milan fashion week has arrived, has overwhelmed us and ended in the blink of an eye. Recovered from the stunning of all the shows (and, let's face it, the after show parties) we have as always selected the 5 Best moments of our favorite fashion week. Here they are for you.
MARNI - VENUS IN FUR
Venus in fur? We have lots for next winter. The classic monochrome fur gives way to capes and cloaks, colorblock or printed all over with geometric patterns. We're talking about the proposals for fall/winter 2014 by Marni: a marked departure from previous collections for the glorification of a new silhouette, poised between geometrical rigor and sinuous lines, crisp palette, cuts and volumes. Alternating neoprene ruffles, cascades of feathers and soft fleeces, Madame Castiglioni has aimed high, and has skyrocketed.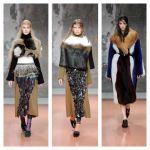 PHILIPP PLEIN - NAOMI IS BACK
Naomi is back and she could not do it if not on the catwalk for Philipp Plein. The ebony skinned goddess opens with a firm and triumphal step and a sensational show, celebrating a cow-girl bold and sensual, wrapped in leather, studs, fur and black tartan. The fireworks, "Lonely Boy" as soundtrack and the performance of Rita Ora made ​ the after show, once again, complete and unforgettable.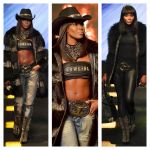 German avant-garde theater the inspiration for Miuccia's outerwear, that carves a masculine and boxy figure, sometimes sweetened by 70s pattern, sometimes embellished with shearling in contrasting colors. The charm à la garçonne of outerwear is subverted by what lies beneath: impalpable dresses and transparent lingerie, fur-trimmed, recall and at the same time break the geometric rhythm of a woman in the middle between the frustrated bourgeois housewife and subversive street walker.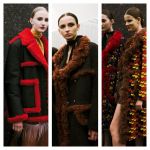 Fendi flies high, very high, putting on stage a spectacle never seen before, which took place well beyond the physical boundaries of the walkway.
For the first time the drones, equipped with cameras in high definition, have taken over the parade from a perspective never seen before, giving to all fashion followers a totally new and revolutionary view. Fashion meets technology in a futuristic atmosphere that has literally subjugated us.
MOSCHINO - JEREMY'S DEBUT
Tongue-in-cheek humor and amused impertinence: the premiere of Jeremy Scott for Moschino is a triumph, a return to the fun atmosphere that characterized the show of the late designer. Obsession with fast food rewritten in a couture, logomania and puns the tribute to Franco Moschino; the "Sponge Bob" series, the boxer bikini and the evening dresses printed with candy wrappers and packaging of cornflakes and chocolate bars are all of the flour bag of the new creative director, who said: "I don't speak italian but I do speak Moschino".