The real trend of the season is the tactical vest
Tired of fanny packs? It's time to start using pockets
With its usual taste for the cerebral, a few days ago Prada brought to the runway a series of fishing vests (which these days, in fashion, enamored of the American koiné are just called "vests") inspired by the wardrobe of the great German artist Joseph Beuys, who used to wear one along with a felt fedora. Those fishing vests, filled as they are with every conceivable pocket or breast pocket, have actually for years been the preserve of a number of brands that have very little to do with fashion, technical brands to boot (the most fashion-forward of them all would perhaps be the Japanese brand South2 West8, representing the ultimate and vaguely anti-fashion aesthetic of fishing gear) who have been producing them for years in every colorway, material, and combination. Some time ago, then, with gorpcore and trail aesthetics that fascination was more or less back, heralded by designers such as Virgil Abloh, Matthew Williams, Sean Suen, and White Mountaineering's Yosuke Aizawa-even the WSJ, in 2019, noted a return to the vogue of the style. Yet that style is now back with new arrogance: we have already mentioned the case of Prada, but there are certainly also those of Études and Hed Mayner, as well as, in past seasons, Givenchy, Magliano, Junya Watanabe, and Marine Serre.
The aesthetics of utility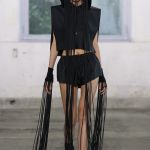 That of fishing vests is not, as mentioned, a giant novelty in the field of menswear - so much so that it has already been years since the trend has existed if not on the catwalks at least on the streets. The appeal of the accessory is a fascination related to its practicality, as this year, for example, the male audience has begun to buy a very large number of handbags (the category grew by 7 percent in 2022 and continues to expand) not only for the status attached to them but also for the objective convenience of not having to walk around with all their belongings stuffed in their pockets. It is clear that bags also represent an extremely expensive category of accessories, perhaps even unappealing to a male audience accustomed to more pragmatic and sporty dressing. This is where the fishing vest comes in, existing in endless combinations of colors and materials, endless old and new models but also capable, unlike the precious and delicate bags, of greatly simplifying the life of the wearer, costing less than the classic bag and also offering an interesting styling opportunity to liven up the classic t-shirt/shirt and shorts combo.
Did TikTok had a role?
In fact, yes. In recent months, a large number of especially American TikTok users have shared the new travel hack of carrying extra luggage without paying the airlines' hefty surcharges for transporting their personal belongings, so much so that Insider recently wrote that «in response to rising baggage fees on airlines, money-saving packing hacks have circulated widely on TikTok and become immensely popular». The WSJ more or less says the same in a second and more recent article on the recent trend that demonstrates, if not journalists' obsession with the accessory, at least the fact that such a phenomenon does in fact exist. But the real question is: Will this appeal translate into luxury as well? The love that so-called finance bros have for vests, especially Patagonia's, is well documented -although for some years now this convention would seem to have fallen into disuse after the activist brand stopped applying corporate logos to its vests. It remains to be seen whether the fintech world will prefer the many pockets of fishing vests to the relative uniform minimalism promised by classic corporate vests. Nonetheless, pages like @midtownuniform prove that the trend, in the world of finance, has not died yet. And, if the shows in the coming days confirm this, we might go so far as to say that it enjoys excellent health.