New LEGO and Star Wars collaboration is pure pop culture for collectors
New sets paying homage to George Lucas' galaxy are among the most complex ever
The LEGO Group also celebrated the enormous heritage of the Star Wars saga this year in collaboration with Disney, which this year more than ever enchanted new and old generations of viewers with Andor and The Mandalorian. With one of its most extensive Star Wars-dedicated collections ever, LEGO once again confirmed its pivotal role in pop culture, which has been increasingly manifesting itself in recent years with, among other things, a series of highly successful films. Among the most successful launches is the LEGO Star Wars Ultimate Collector Series X-wing Starfighter™ set, an impressive replica of the legendary vehicle beloved by fans of Star Wars™ and Star Wars: The Mandalorian™. The LEGO Star Wars Ultimate Collector Series X-wing Starfighter™ set was launched on May 4 in honor of Star Wars Day and is now available in both LEGO Stores and on LEGO.com. This magnificent 55 cm long set offers a detailed reproduction of the iconic X-wing, accompanied by LEGO Minifigures of Luke Skywalker and R2-D2™, as well as a nameplate with technical details of the spaceship. Without a doubt, this set immediately earned a place of honor in the collections of all fans.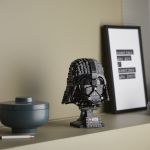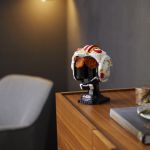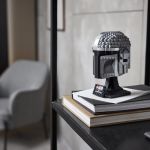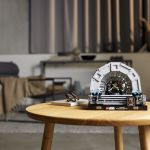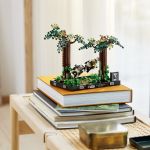 On Star Wars Day, April 29, the LEGO Stores in Milan San Babila and Milan Gae Aulenti organized an extraordinary event. Fans were able to admire the brick model of the X-wing Starfighter™ live, thanks to a special set-up created especially for the occasion. Stores were transformed themed with window displays and themed music, while a legion of Imperials, Rebels and Mandalorians made the event even more engaging by taking souvenir photos with visitors. In addition, special gadgets were distributed to attendees. But the surprises did not stop at Star Wars Day. LEGO expanded its collection of Star Wars™ helmets with three new iconic sets. Each LEGO® Star Wars™ construction helmet is practically more of a design work than just a construction set. Fans can now build Luke Skywalker's iconic pilot's helmet, pay homage to the famous bounty hunter Din Djarin from The Mandalorian™ or express their "imperial" side with the Dark Trooper™ helmet. Each set offers a detailed and realistic representation of the helmets, capturing the essence of the characters and their stories.
In addition, the LEGO Group announced the launch of two new dioramas inspired by two iconic scenes from Star Wars: Return of the Jedi. The Emperor's Throne Room™ and the speeder chase on Endor™ have been carefully recreated with LEGO bricks, capturing the atmosphere and essence of these epic scenes. Both sets feature LEGO Minifigures of key characters and offer fans the opportunity to recreate and display unforgettable moments from the film.
All the new LEGO sets dedicated to Star Wars are available at this link.