The absurd story of Kurt Cobain's striped jumper
And its revivals, from Freddy Krueger to Heaven by Marc Jacobs
Before the picture of Michèle Lamy, the fashion industry's favorite lawyer, and Rick Owens' muse, wearing Heaven by Marc Jacobs SS23's black and red striped jumper went viral in an endless loop of social shares, we had almost forgotten the magnetic pull of a garment that made not only fashion but also music history. Freddy Krueger's uniform in Nightmare, Kurt Cobain's most popular jumper, an inspiration in its essential design for stylists of the caliber of Hedi Slimane and Takahiro Miyashita: the distinctive mohair jumper has appeared several times over the past decades, so much so that it has become a symbol of that grunge and distressed aesthetic typical of the 90s, of Seattle, of Portland, of music played in basements. But what makes this myth even bigger are the strange circumstances that made it famous.
It was 1992 when Nirvana played at the King's Hall in Belfast, the temple of rock in Northern Ireland. Chris Black, a local musician in his early twenties, decided to go backstage to avoid the violent pogo on the dance floor, and there he met Courtney Love. Cobain's then-girlfriend immediately asked Black if he would be kind enough to give her his mohair jumper, even going so far as to bargain it down for just £35. The following year, the video clip for Sliver was released on MTV. It was filmed in the garage of Cobain's Seattle home and features an appearance by Francis Bean. The Nirvana frontman wore the same red jumper that Courtney had bought from Black a few months earlier, but it had a distinctive feature, a huge tear down the middle, a detail that did not stop the king of grunge from continuing to wear it on a variety of occasions, including the live show in Chicago in October '93, and even adding to his appeal a sloppy touch. In the early 2000s, Black tried unsuccessfully to buy back the jumper by hiring some American friends to dig it up, spurred by the hype that the Cobain myth had generated over the years. The intuition was correct, considering that in November 2015, Julien's Auctions sold the cardigan Kurt wore to MTV Unplugged in '93 for $137,500.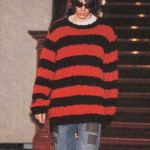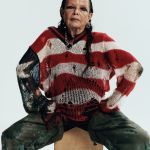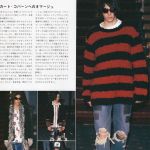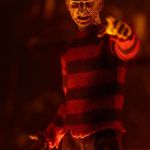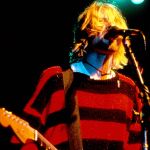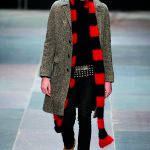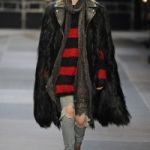 The live show in Chicago inspired Takahiro Miyashita to create an identical model for NUMBER (N)INE's FW03, continuing the long line of tributes to Cobain that the Japanese designer has sprinkled into his creations, including the famous smiley face that first appeared on a flyer for Nevermind's debut party on 13 September 1991 and reappeared in a loop of graphic T-shirts. For FW13, Hedi Slimane has designed a version in wool inspired by a glamorous interpretation of Cobain's grunge heritage. With SS23, Heaven by Marc Jacobs continues its work of studying and observing the TikTok generation by redesigning garments that match Gen Z's transition from y2k to the effortless cool of indie sleaze. The 3.0 version of the Cobain jumper draws on the nostalgic heritage of Johnny Rotten's mohair jumpers but is enriched with memorable details, including a sleeve that features the stars and stripes of the American flag. The revival of a history that still makes sense (and can be worn) more than 30 years later.