Glenn Martens and Jean Paul Gaultier join forces again
A capsule collection exploring the concept of illusion
Glenn Martens and Jean Paul Gaultier have teamed up again to explore a passion shared by the two designers: trompe d'oeil prints. This prêt-à-porter collection focuses on the concept of illusion, playing with proportions, patterns and their positioning. 2D-printed knitwear covers mesh dresses and tank tops, while maxi and mini skirts are layered over printed hot trousers. Elsewhere, cut-outs, dyeing techniques and layers complement Jean Paul Gaultier's essential silhouettes, enhanced by two-tone hues.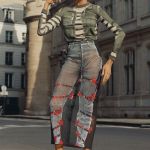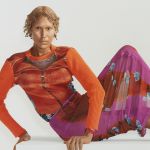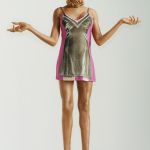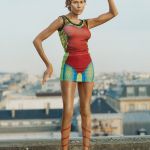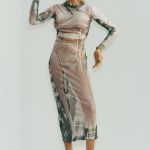 As WWD reports, this collection is a homecoming of sorts for Martens, who was recruited by Gaultier shortly after graduating from the Academy of Fine Arts in Antwerp in 2008 and worked as a junior designer for his pre-collection womenswear and menswear label G2. Following his haute couture debut, Martens also designed a capsule collection rtw, also in the trompe l'oeil style, based on Gaultier's spring 1996 Cyberbaba collection. Illusionary prints are still part of y/project's DNA, just as they will be for Glenn Martens and Maison Gaultier's joint couture in 2021. The new collection is an evolution of the duo's first collaboration and aims to maximise the concept of illusion and take it a step further for the new season. The collection is accompanied by a vibrant campaign photographed by Thomas Cristiani and starring Gia Bab. Florence Tétier is the creative director.
The collection will be available from Friday at Jean Paul Gaultier and Y/Project e-stores and selected retailers. Prices range from €320 for T-shirts to €1,290 for tailored jackets.