Is Y2K still in fashion?
After three years of skimpy looks, customers succumb to old money charm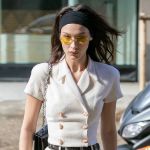 If the past fashion weeks have taught us one thing, it is that simplicity is a new luxury. Saint Laurent, J.W. Anderson, Loewe, Dolce & Gabbana, Givenchy, Balenciaga, Prada, Ann Demeulemeester, Courrèges: FW23 followed the dictates of minimalism and presented a dark masterpiece of balance and measure, far from subcultural hints and in search of universality in a panorama of decay. It was the season of black, of the power suit, of nostalgia, but for a new era. If in the last three years, between Miu Miu and Blumarine, 2000 became the dominant trend, a direct consequence of the post-pandemic and the desire for carefreeness that defined consumer tastes, the latest catwalks have rediscovered the 90s and once again the credit goes to Gen Z and TikTok.
According to a study by The RealReal, reported by Nylon Magazine, TikTok's obsession with 'old money' style (the hashtag has more than 4 billion views) has morphed into a preference for classic silhouettes and patterns. So let us start with the basics: the term 'old money' refers to families whose wealth has been passed down from generation to generation. In the United States, this definition is often associated with the acronym WASP, White Anglo-Saxon Protestants, and encompasses the great houses of American power, such as the families who have been given pride of place in Ivy League colleges and divide their time between penthouses in Manhattan and beach houses in the Hamptons. In Europe, on the other hand, the Old Money label is associated with titles of nobility, aristocratic lineages, or families whose fortunes date back to the turn of the century, if not earlier. Brands that offer timeless sartorial luxuries, such as Khaite, The Row, Loro Piana, Max Mara, Celine in the Phoebe Philo years, Jil Sander, and Nanushka, have therefore become the preferred brands for a sophisticated look. At the same time, there are more and more inexpensive copycats and styling tips on how to recreate old money looks without taking on a big budget.
Searches for Khaite have increased by 65%, while interest in The Row has increased by 44% in the last year. No longer Britney Spears and Paris Hilton, but Carolyn Bessette and Kate Moss: long, luxurious wool and cashmere coats, loafers, elegant maxi skirts, button-down shirts, and minimalist shoulder bags. The strongest demand came from loafer lovers, who saw an increase of 733%. Those without the spending power for luxurious brands like Loro Piana preferred to reach for Staud and Ganni, which dominated searches for knee-high boots and classic bags. As the demand for '00s fashion fades, a bastion of nostalgia remains for an elegance that defies dating.