Chanel is also targeting the sneaker market
So yes, mum-core it is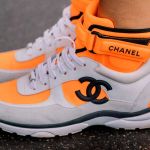 In recent years, Chanel's footwear has been a hit with influencers and the like: just think of the leather Espadrilles, the cream-coloured black-tipped Slingbacks, the rain boots, or the quilted sandals. Although all of these shoes have been the undisputed stars of the latest fashion weeks and their respective street style reportage, Chanel's air of sophistication has remained untamed, managing not to be overwhelmed by hype culture and the big revenues that it has notoriously brought to other luxury tycoons like Gucci and Fendi. Lately, however, it seems like Chanel is about to come out of the closet, attracting the attention of unusual publications such as Highsnobiety with drops that adhere to a look that has been celebrated in hype culture for years, but that is now on the verge of collapse. Rather than dad-core, which takes its cues from the dated style typical of dads, the aesthetic proposed by Chanel trainers adheres more to what might be called mom-core today.
According to an analysis by BoF, the luxury trainer market is in slow decline. While global sales of designer trainers increased by 2.7 per cent last year compared to the previous year, they have shown a «dramatic slowdown from the 19.5 per cent peak recorded in 2021.» If we add to this data the incredible flop of the latest collaborations and the disappearance from the industry of sneaker-maniacs' favourtie muse Kanye, we can guess the probable beginning of a hype crisis, begging the question: what is Chanel doing in the world of Yeezy, Supreme and New Balance now that it is facing its demise? The current fail of hype culture is the perfect storm for Chanel; as brands such as Fendi and Gucci move away from the trainer world and into one populated by loafers and high heels, Chanel takes over a lucrative market by adhering to a conventional aesthetic, relaunching the sporty-chic look of 2000s mums.
Massive silhouettes, silver trimmings, subdued tones that besides white, black and grey only experiment with a velvety burgundy. The DNA of Chanel's new trainers mimics that of the modern Nike Dunk, the Air Max 95, and the New Balance 530, but instead of aiming to appeal to a Gen Z audience, it draws on the tastes of adults, those who years ago used to love Hogans and Isabel Marant's Beketts. Having entered the trainer market with great pomp (those in the SS23 line have a retail price of €1,100), Chanel contains its niche of upper-middle-class customers with low-profile, unadvertised drops that appear on social media infrequently and don't even have a designated name, just 'Sneakers'. This may seem like bad timing, but in truth it is a noteworthy strategy.