H&M and Mugler collaboration has a release date
Will the two brands succeed in reopening the great season of "high vs. low" collaborations?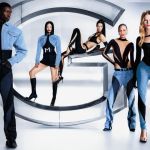 UPDATE 23.03.23: Almost exactly one month after the first rumors, H&M has confirmed its upcoming collaboration with Mugler, available online and in selected stores from May 11. The collection, in addition to echoing some of the brand's signature aesthetic traits, will see the return of some revisited archival garments available in limited quantities. Also, to announce the arrival of the collaboration, which will feature both menswear and womenswear, Mugler released a video starring Amaarae, Shygirl, Eartheater, and Arca along with producer Ashland Mines, together for a new version of Music Sounds Better with You.
Today H&M announced its return to collaborations with big fashion brands. The next big name in the luxury industry to work on a collection with the Swedish fast fashion giant will be Mugler, designed by the brand's creative director Casey Cadwallader. According to WWD, the brand has not commented on the collaboration that had apparently been chatted about in recent weeks without confirmation coming. Again WWD's sources also said that, in the second half of 2023, H&M might collaborate with Paco Rabanne - most likely highlighting a desire to restart the brand's collaborative activity more or less interrupted around the pandemic (there was a collaboration with Iris Apfel, which went fairly under the radar) that, in H&M's years of great success, also counted Versace, Maison Margiela, Comme des Garçons, Balmain and Lanvin among its partners. The desire on Mugler's part in pursuing this collaboration with H&M (a format that has never really stopped, just think of the collaborations of Marni, Lemaire, and J.W.Anderson with Uniqlo) probably lies in the need to increase Mugler's own brand recognition among members of Gen Z - who has been repositioning itself outside the perfume world for the past few years by trying to relaunch itself in ready-to-wear.
Collaborating with the Swedish fast fashion giant thus represents access to a broader customer base, perhaps testing which styles are most popular, and maybe even avoiding the infamous "Fenty effect" with reference to the time LVMH tried to turn Rihanna's beauty business into a real fashion brand, shutting it down after two years due to disappointing results, due precisely to the fact that the brand's products had luxury pricing that poorly connected with the spending power of the singer/entrepreneur's fans. Effectively, the golden age of "high end" collaborations between big names in commercial fashion and H&M seemed to have been over for a while, with big retail brand partnerships such as Zara or COS focusing on independent designers and brands such as Studio Nicholson, Reece Yeboah, Mati Ventrillon, and so on. The format pioneered by Uniqlo, on the other hand, diverges from the one inaugurated by H&M (which was based on producing cheaper versions of luxury pieces such as the Belt Jacket from the collaboration with Margiela), with the same relevance of the designers involved, because of its focus on simplified products that cannot be confused with the brands' actual production. If, however, this collaboration with Mugler is successful, we may perhaps again see the rebirth of a format that, in the past, has enjoyed great success.