Two opposing strategies for the future of fashion
The two different ways LVMH and Kering will navigate 2023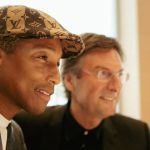 «Two households, both alike in dignity, / In fair Paris, where we lay our scene, / From ancient grudge break to new mutiny». Thus we paraphrase the prologue of Romeo and Juliet to talk about the Montagues and Capulets of the fashion industry, on one side the Arnaults and on the other the Pinaults, on one side LVMH and on the other Kering. Both luxury mega-groups are facing a turning point in their history, before which they have made two seemingly mirror-image decisions: LVMH, in appointing Virgil Abloh's successor for Louis Vuitton, chose to experiment with the concept of "luxury as cultural capital"; Kering, on the other hand, in appointing Sabato De Sarno from Gucci, decided to return to the idea of "luxury as timeless excellence." On one side a global superstar, on the other an industry insider. On one side the stage, on the other the atelier. The two approaches have already been explored in past years: beyond Pharrell at Louis Vuitton, a decidedly striking move, the group appointed Nigo as creative director of Kenzo, put Kim Jones in charge of womanswear and couture at Fendi, and gave cult designer Phoebe Philo her eponymous brand. All moves based on appointments of recognizable creative directors with established cultural capital and legendary status. As a step forward, the choice of Pharrell to lead Louis Vuitton testifies to the desire to transform the brand into a multi-cultural platform, a mass-media giant that exists far beyond the limited scope of clothing. Things are different at Kering: when the chatty, divisive Daniel Lee divorced Bottega Veneta, the Head of Design, Mathieu Blazy, was promoted; just as at the farewell of the popular, volcanic Alessandro Michele, a professional who had worked in Valentino's design studio for thirteen long years, relatively far from the spotlight, was put in charge of Gucci. Similarly, as the chaos around Balenciaga subsided, Demna declared, «I have decided to go back to my roots in fashion as well as to the roots of Balenciaga, which is making quality clothes—not making image or buzz». While at Saint Laurent's there has been a progressive return to simplicity and to menswear as couture-as if to say that value should be focused more in the exquisiteness of clothes than in branding.
Much has been said, in fact, about that phrase François-Henri Pinault said last February during a press conference: «Designers are still very important. [...] But you need a balance between creativity and timelessness. It's about being able to play with both» which many said was intended to chart Kering's new course after Gucci's loss in popularity following the pandemic. The group's chairman had returned to the issue of brand value during the same press conference: «In the group's model developed since 2012-13, which emphasizes creativity in ready-to-wear, we have been able to attract a fairly young […]. But luxury houses are a balance between the creative component and the more sophisticated and timeless component and have the ability to be both creative and authentic. You have to be legitimate in order to appeal to this very high-end clientele». He also added: «Every season we work on exclusivity and desirability. The way to achieve that in this industry is to work on product sophistication. We keep bringing an increasingly luxurious product to the market». Speaking instead on the subject of Pietro Beccari's appointment as Louis Vuitton's new CEO, Bernard Arnault foreshadowed a «product diversification push» by mentioning a desire to transform the brand's headquarters into «a hotel/museum/mega flagship and a lot more». So while Pinault intends to focus on a more luxurious product that will create that legitimacy, Arnault wants to seek that legitimacy in the expansion to other commercial realms of the luxury represented by the Louis Vuitton brand. One wants to sell better products, the other wants to sell additional products.
The fact that the world's two largest fashion brands, flagships of the world's largest luxury groups, have found themselves looking for new artistic directors (and thus new directions) in the same, short span of time means that the general course of fashion and consumer culture has reached a new and important turning point. What was selling yesterday, fueled perhaps by the virality of social media, by the incorporation of identity politics into the fashion narrative, by the disruption brought by the arrival of streetwear on the catwalk today is selling less. In the course of less than a decade, a new populous fauna of luxury brands has arisen, also creating some confusion in the markets: given the same materials, quality, and countries of production, which brand produces the most valuable items? And how to identify this value? And, most importantly, ultimately: what is luxury? In a world where cashmere and leather are no longer the preserve of the elites, where the same polyester is used to produce both "low" and "high" technical garments, where "Made in Italy" brings together brands of different prices and positioning, and where even the richest of customers want to buy a sneaker and a sweatshirt rather than a tailored suit with impeccable aplomb, where does luxury hide? Until now, the big industry leaders might have answered, relativistically, by saying that luxury is where we think it is. But after the lockdown, economic damage and rising inflation, relativism is not enough. The answer must be clear and tangible, both in order to justify raising already sky-high prices and because the customers who bring in the real money must be appreciated and held on to - brands cannot bite the same hand that feeds them. If luxury is really a trick, the public demands that the magician explain it to them. The Arnaults and Pinaults are trying to give their own answer: luxury as culture and luxury as invoice. Only time will reveal which of the two answers is the right one.