Timberland e CNSTNT DVLPMNT celebrate Yellow Boot's 50th anniversary
The Hip Hop Royalty Boot consolidates the union between Hip Hop imagery and the Timberland boot
This year the iconic Timberland Yellow Boot and Hip Hop turned 50 years old. To celebrate the anniversary of the shoe that has made the tree logo synonymous with innovation and durability, the brand has created a collaboration dedicated to the world of Hip Hop through the Timberland® Hip Hop Royalty Boot. Designed by Senior Footwear Designer Chris Dixon, this new Premium 6-Inch Boot has been coated in purple and gold, and decorated with graffiti-style detailing and microphone laces.
The product was created through a collaboration with CNSTNT DVLPMNT, a small company founded by entrepreneurs of colour in 2018 with the aim of supporting a large community of creatives planning to include a mentoring project for aspiring footwear designers. «I'm really happy to partner with Timberland and give creative talents something I didn't have when I was younger: the strength that comes from creativity,» Dixon explained. Together with CNSTNT DVLPMNT, Timberland is committed to offering young creatives the right support to pursue a career path in fashion and art, through workshops such as prototyping and photography.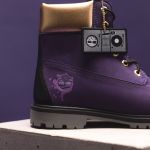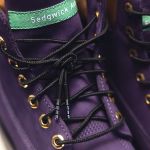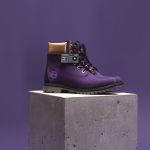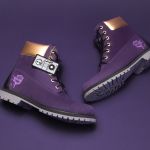 Both born in 1973, Hip Hop music and the Timberland Yellow Boot share their origins on the American East Coast, and over the years have many times found their stories intertwined. Inspired by the inseparable union of these two worlds, Chris Dixon chose purple for the Hip Hop Royalty Boot, an homage to the mural in the Bronx dedicated to DJ Kool Herc, and gold as a direct reference to royalty. The grey sole mimics New York's 'concrete jungle' colour scheme, while the black of vinyl records is carried along the reinforcement. In addition to a decidedly unique look, this new boot retains the features that have always made the Premium 6-Inch Boot a champion of durability and comfort.