How Timberland has built its future
Future73 celebrates the 50th anniversary of the iconic Original Yellow Boot
In these strange times for the fashion industry, a collaboration can kill you or, even worse, it can seal your utter irrelevance in a universe that continues to move at the speed of light. Likewise, the right collaboration can give you a place in the world, helping consumers remember your uniqueness. But what happens when those collaborations are more than one, indeed more than five? And when they are accompanied by a series of initiatives that, in the process, aim to help consumers rediscover their true essence? This is a question to ask Timberland, which with Future73 celebrates 50 years of the iconic 6-inch yellow boots, with a special initiative involving six designers and creatives called upon to reinterpret their personal vision of the icon: Edison Chen, Samuel Ross, Suzanne Oude Hengel, Nina Chanel Abney, Humberto Leon and Christopher Raeburn.
Stratham, New Hampshire
Timberland was founded in 1973 by Nathan Swartz with the aim of producing technical boots for workers, to protect themselves from the hostile atmospheric conditions of the area. Suffice it to say that just a few days before the official launch of the project, thermometers in the state were registering 25 degrees below zero. It is therefore natural to understand how the concepts of resistance and impermeability, as well as that of comfort, were fundamental to the brand. What is now the Timberland "village" stands exactly where Swartz had moved his Abington Shoe Company from Boston a few years earlier, an extremely innovative factory located in the middle of nowhere. It is also home to a prototyping centre, the Design Lab, consisting of some of Timberland's very first proprietary machinery, where a team of designers and engineers is able to produce a yellow boot in less than 45 minutes. The link between the brand and its place of birth is, as is often the case with American workwear brands, visceral and is recognisable from the very entrance to the HQ, in front of which a tree (timber, to be precise) represents the brand's iconic logo.
From Stratham to New York the road is not that long, which is why it is above all in the rap capital of the world that the brand established itself to explode in the mid-1990s as a true uniform of the hip-hop aesthetic. This is also recalled by Drieke Leenknegt, CMO of Timberland, emphasising the incredible relevance of rap icons in the spread of the brand: from Notorious BIG to Nas and the Wu-Tang Clan. It was the Long Island crew that inspired one of the six designers called upon to represent the future of Timberland, Edison Chen. The actor and CLOT founder recalled how: «my first memory of Timberland and the 6-inch was the cover of VIBE with the Wu-Tang Clan. I was living in Hong Kong and trying to absorb as much of the US hip-hop culture as possible; so much so that I waited until my first trip to New York to buy my first pair of Yellow Boot.» It is rappers the first to make an item designed for New Hampshire workers truly appealing to the fashion world, placing them within the incredible world that was the video-making culture of the Golden Age of rap. The latter, in fact: as Rob Walker recounts in his book Buying In: The Secret Dialogue Between What We Buy and Who We Are, "the first people to wear Timberlands boots were the drug dealers of NY, guys who had to be on the streets all night and needed the best footwear possible to keep their feet warm and dry." The urban counterpart of those who had to move quintals of wood up and down the Granite State.
And it is also to celebrate the incredible relevance of rap and black culture that the brand's 50th anniversary celebrations include the release of The Hip Hop Royalty Boot - in the same year that hip hop also turns 50 - and a workshop project led by Chris Dixon, Timberland designer and member of the CNSTNT:DVLPMNT collective, which will travel together with the brand across key cities along I-95, the iconic highway that runs the length of the American East Coast.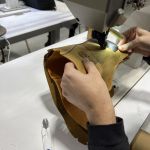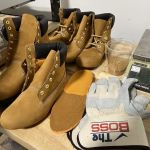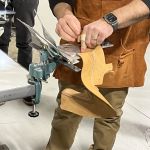 The art of working together
In a 2015 article, Sarah Halzack writes in the Washington Post "The company says that the cornerstone of the comeback has been a two-year customer study in which it collected data from 18,000 people across eight countries. In analysing the trove of responses, Timberland was able to diagnose its problems and to zero in on its ideal customer - an urban dweller with a casual interest in the outdoors". The focus put by the company in identifying their ideal consumer translates, over time, into what Drieke Leenknegt calls the ideal approach to every Timberland product: "SPG". «Style, Performance and Green. We believe it is extremely important that each of these pieces should be part of every product we create. And part of Future73's products are a total expression of this idea.»
Part of the very idea of a heritage brand like Timberland is to continually evolve, as Humberto Leon, another of Future73's protagonists, recounts: «So much has changed since my first collaboration with Timberland (with Opening Cerimony) 15 years ago, especially now there are so many more possibilities from a technological point of view, and a brand like Timberland has innovated so much, always remaining true to itself, and allowing us to experiment so much with materials».
Timberland's recent years are proof of how meticulously that consumer has been identified, as well as the brand's ability to identify and perfect the art of collaboration in an extremely intelligent manner, enriching the brand's heritage and being able to surround itself with an ecosystem and a 'community' relevant to increasing the brand's perception beyond the simple brand-to-brand collaboration, an experiment all too much sought after by brands halfway around the world. It is from these kinds of projects that the collaboration with Veneda Carter, Bee Line, BAPE or Tommy Hilfiger originates, not to mention the recent co-creations with Supreme and Stüssy, which have contributed to making the brand a perfect canvas for narrating the macro-trend of this precise moment in history: an urban and adult casual-formal wear, a direct evolution of the influence of streetwear on the ready-to-wear industry. Samuel Ross also says it well, describing his collaboration with Timberland as part of a very important personal growth process for A Cold Wall: «A Cold Wall perfectly represents my journey from youth to adulthood. I started ACW when I was 25, I am now 31 and have a wife and two children. During this time the very idea of what clothes you make or wear has to change a lot. Having my first child changed everything, because at that exact moment my role in society had changed and I think I needed a new uniform to represent my role in society. With the partnership with Timberland, I had the opportunity to make some highly manufactured things based on a concept much more related to traditional menswear and it seemed like an honest story to tell».
The future
The concept of honesty is extremely present throughout the narrative of Future73, a project born with the aim of visualising the future of an object so iconic that it has represented the very essence of Timberland. Six completely different approaches that derive from six different visions of the world - as well as from six different parts of the world. For example, Edison Chen, the founder of CLOT, spoke about the process behind his understanding of collaborations, "facilitated" by his brand's role in Asia and around the world: «we try to emphasise the most iconic aspects of the brands we collaborate with, in a way that is authentic to our message and our brand. For us as CLOT, it is easier because we manage to represent China in a way that not many Chinese brands have managed to do».
For Humberto Leon, on the other hand, it was the idea of challenging the technological possibilities of the brand in reproducing a mold that had never been made before that made him want to be daring, as well as the crazy idea of not wanting to relate a garment to a specific seasonality: «in brands, every garment or shoe always has a seasonal function. But I grew up in California wearing 6-inch shorts and what I wanted was to make something that could be useful for every season». Suzanne Oude Hengel has deconstructed the classic Timberland boot through ingenious use of knitwear, while REABURN has relied on a certain idea of functionality and recycling - both his and Chen's creations are part of the Timberloop project dedicated to sustainability and the promotion of the circular economy - while Nina Chanel Abney, a painter and talented contemporary artist, has let her idea of Timberland guide her collaboration. Different approaches that identify perfectly with a brand's desire to do different things, moving from true American workwear (with TimberlandPro) to a focus on the outdoor world without forgetting what has made the Timberland 6-inch one of the most immediate American icons: the desire, while wearing a pair of boots, to feel good. In any way possible.