The 15 best fashion documentaries in anticipation of fashion week
From the history of Raf Simons and Dior to the lives of Vivienne Westwood and Valentino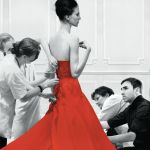 What occurs behind the glitz and glamour of the fashion industry remains a huge mystery to plenty – outside the camera flashes and film rolls remain nothing to the naked eye. But in the recent years, some of the world's biggest houses have opened their doors to the cameras, offering a rare glimpse of the behind-the-scenes mayhem and chaos that goes with the reverence of brilliance.
As we wait for New York Fashion Week to kick off the new round of runway shows that will conclude in March with Paris and the end of this fashion month, here are 15 fashion documentaries you absolutely must add to your movie list.
1. Dior and I (Frédéric Tcheng, 2014)
Shot over the course of eight weeks, Dior and I is a behind-the-scenes look into menswear designer Raf Simons' transitional debut to Haute Couture for Dior. Tying together history and the present, the documentary follows Simons' creative prowess, as well as his contention to carry the helm of the heavy weight of the maison's legacy.
2. Issey Miyake Moves (Setsuko Miura, 2002)
Famed for his careful pleats and for integrating Eastern and Western elements into his work, Issey Miyake Moves documents the designer as he creates innovative textiles for his namesake label. It documents Miyake's utilization of texture and wrinkles, as well as his use of pleats and twists–both of which have opened up a whole new universe of fabric possibilities in the realm of fashion.
3. Martin Margiela: In His Own Words (Reiner Holzemer, 2020)
11 years after departing from his namesake label, Martin Margiela is finally back: not for another collection, but for a documentary. Directed by documentarian Reiner Holzemer, with In His Own Words Martin Margiela breaks his silence for the first time to talk about his 20 years in the profession, following his narrative from 1988 to up until his departure from fashion. Ever so elusive, the camera focuses on the designer's hands as he writes notes, creates outfits, and handles priceless items from his boyhood— and never on his face.
4. The September Issue (R. J. Cutler, 2009)
«It's a famine of beauty, honey! My eyes are starving for beauty!», says André Leon Talley. The aptly-named documentary, arguably the most well-known of all fashion documentaries, follows the production of Vogue America's 2007 September Issue, traditionally the most significant issue of the year. The documentary provides an unprecedented insight into the inner workings of the fashion bible Vogue, as well as what it's actually like to work for the one and only Vogue Editor-in-Chief, Anna Wintour.
5. Franca: Chaos and Creation (Francesco Carrozzini, 2016)
The documentary, directed by Francesco Carrozzini, son of Vogue editor-in-chief Franca Sozzani, zeroes into an intimate glimpse into Sozzani's life, revealing the tale behind fashion's biggest enigma, exploring both her career and her personal life. It emphasizes her tremendous influence on fashion editorials during her tenure, as well as the mother-son bond between Sozzani and Carrozzini. And we quote Franca – «Who the fuck told you that I'm not a genius?»
6. Westwood: Punk, Icon, Activist (Lorna Tucker, 2018)
The first film to tell the epic tale of one of our generation's realest punk symbols, as she strives to maintain the integrity, principles, and legacy of her brand. Before her passing earlier last year, Vivienne Westwood first went candid in a tell-all documentary 2018 – starting from pushing the idea of punk into the mainstream consciousness of the UK through her unique design aesthetic in the 1970s. Using historical footage and informative interviews, a portrait of Vivienne's unique relationship with collaborators develops, transporting viewers from her upbringing in wartime Derbyshire to the runways of Paris and Milan.
7. The Gospel According to André (Kate Novack, 2008)
«I had this documentary done on me, The Gospel According to André. It came out two years ago, and it was so well-received. People loved it and were so moved by the story». Kate Novack's documentary recounts the life and career of fashion journalist André Leon Talley – from his origins in the segregated South, to his trailblazing work at Vogue as editor-at-large. This intimate portrayal of fashion's main fixture takes viewers on a journey from André's childhood roots to becoming one of today's most influential tastemakers.
8. McQueen (Ian Bonhôte, Peter Ettedgui, 2018)
8 years after his untimely passing, McQueen provides an intimate and emotional look at the designer's talent, life, and brilliant career cut tragically.
9. Yohji Yamamoto: Dressmaker (The Chau Ngo, 2016)
Yohji Yamamoto, despite being a household name in fashion, remains an enigma to plenty. Dressmaker portrays the designer in all his creative glory. The film delves into the designer's space to reveal his onion-like layers, as well as to explore into his fascinatingly complicated life story of the legendary 79-year-old Japanese craftsman.
10. Valentino: The Last Emperor (Matt Tyrnauer, 2006)
Valentino Garavani dominated haute couture for nearly half a century. Set during the flamboyant finale of his illustrious career, The Last Emperor offers the public an unprecedented view into the world of one of Italy's most recognized fashion designers. in addition to providing a retrospective of his life, the documentary also takes on challenges impacting the fashion industry, as his cherished kingdom is besieged as the company is sold.
11. L'Amour Fou (Pierre Thoretton, 2010)
This documentary, created two years after Yves Saint Laurent's death, focuses on a large posthumous auction of the magnificent artworks he gathered with partner Pierre Bergé. It also zeroes on iconic designer Yves Saint Laurent's personal connection with his partner Pierre Bergé, as well as his constant battle with depression and substance misuse. The documentary tells his life and how, despite numerous hurdles, the designer engaged himself in his art.
12. Lagerfeld Confidential (Rodolphe Marconi, 2007)
Today is the perfect opportunity to get back into this document, following this year's Met Gala theme: Karl Lagerfeld: A Line of Beauty. Lagerfeld Confidential takes viewers behind the sunglass-clad façade and into the everyday life of fashion's most iconic designer, Karl Lagerfeld, the master of re-invention. It exposes Lagerfeld's signature style: an all-consuming creative restlessness and insatiable curiosity for art, history, politics, music, and fashion.
13. Dries (Reiner Holzemer, 2017)
Van Noten is a notoriously reclusive designer, preferring to work long hours at his Antwerp studio or staying in the luxury of his beautiful Belgian home. But through this film, Dries provides a glimpse into the life, intellect, and creative heart of a master fashion designer, who has remained independent for more than 25 years in a world of fashion consolidation and globalization.
14. Fresh Dressed (Sacha Jenkins, 2015)
Sacha Jenkins recounts the narrative of the Harlem haberdasher in this lively history of hip-hop fashion. Fresh Dressed is an engrossing look at hip-hop, urban fashion, and the hustle that transported enormous pants and graffiti-splattered jackets from Orchard Street to high-fashion catwalks and American shopping malls. Supported by rich archival materials and in-depth interviews with individuals vital to the creation of a way of life—and the outsiders who studied and adored them, Fresh Dressed dives into the core of where Black fashion was born.
15. Mademoiselle C (Fabien Constant, 2013)
Following Paris Vogue editor-in-chief Carine Roitfeld's quest onto her newfound publication, CR Fashion Book, Mademoiselle C dives into Carine's colorful and intriguing life as she embarks on a new fashion agenda with her debut magazine.