Are the new Astro Boy boots teasing MSCHF customers?
The boots that are NOT made for walking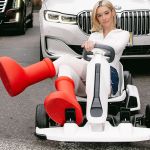 The latest stunt by the American art collective MSCHF was to create a pair of boots strange enough to be cartoonish. And we don't just mean in colour and shape, but also in ridiculousness. They called them 'Big Red Boots', and they are nothing more than an exact reproduction of the shoes of Astro Boy, the mechanical protagonist of the 1960s manga and anime. The rubber boots, which will go on sale on 16 February for $350, have already become a sensation on social media - as has happened to all of the brand's creations in the past - but they polarise MSCHF customers, torn between the excitement of investing in one of their new drops, and the fear that the collective has lost credibility in the world of hype fashion.
MSCHF, from mischief, has always been an ironic brand, since its inception in 2016. In an interview with ArtNews, the co-founders explained that the starting idea for their company came from the combination of their degrees: Lukas Bentel's in music, and Kevin Weisner's in materials engineering. Their aim, together with the other eight members of the group, has always been to eschew the art world. «We wanted to create objects that would go beyond art galleries, as opposed to the work we did in college,» Bentel explained. From this concept, the two approached a much more inclusive world, so that they could create a strong connection with their audience by publishing their work on the internet and putting it up for sale at almost affordable prices. Since its inception, MSCHF has provoked the fashion world, creating garments and tricks that confused their audience and potential rivals, to the point of being sued by Vans for imitating a pair of their trainers. Last summer, the ketchup-sized lipsticks from the Fenty Beauty collaboration raised the question: when you buy, what are you really investing in?
Everything about MSCHF's objects is reminiscent of the mini-toys we bought at the newsstand as children: rubber and plastic puppets, key chains, dolls, and spinning tops. One day, we would tearfully convince our parents to buy us these plastic contraptions, the next day we had already forgotten about them. Similarly, brand customers yearn for the new drop, and then are disappointed when after a couple of weeks it has already lost relevance on social media. If irony has been used many times in the past by more or less famous designers - above all Jeremy Scott from Moschino, on the other hand, it is undeniable that in MSCHF's provocative game, something would seem to be broken: born as a critique of consumerism and hype culture, has the collective perhaps become a victim of its own game?