Thom Browne wins legal battle against adidas
The final verdict in the case of the three stripes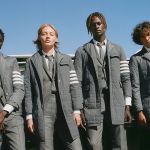 After suing Thom Browne for trademark infringement due to improper use of the stripes, adidas had sought damages of $867,225. But less than three hours after both sides made their closing arguments - Thom Browne's lawyer, Robert T. Maldonado, began his argument by simply stating «adidas does not own the stripes» - the eight-member jury returned a verdict on Thursday, 12 January 2023, stating that «Thom Browne did not infringe the adidas trademark and is therefore not liable for any damages or profits from the sale of products bearing the stripes or its mark».
The lawsuit, which began last week in the U.S. District Court for the Southern District of Manhattan, dates back to June 2021. At the time, adidas filed a trademark infringement lawsuit against Thom Browne, alleging that «Thom Browne was aware of the rights to the famous three-stripe mark» but expanded its product offerings far beyond its repertoire of formal and business wear. The statement of claim alleges that Browne now «sells casual clothing and footwear with two, three or four parallel stripes in a manner that causes confusion with the adidas three-stripe mark». According to adidas lawyer R. Charles Henn Jr. of Kilpatrick Townsend & Stockton LLP, adidas is seeking $867,225 in damages for alleged royalties and another $7 million for profits the New York-based brand allegedly made on products bearing the stripes.

«We are pleased that the jury concluded that Thom Browne Inc. never infringed any registered trademark of adidas. For more than 20 years, Thom Browne has been a groundbreaking force in the world of luxury, with a unique and distinctive design aesthetic that combines classic tailoring with a uniquely American sportswear sensibility. We look forward to continuing to design and deliver the creative products that have contributed to the success of Thom Browne's aesthetic imagery», a Thom Browne spokesperson said in a statement released by WWD.