2023 is the year we will forget about Kanye West
Abandoned by his fans, the rapper chose to destroy his legacy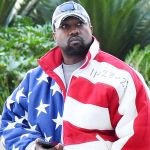 Months have passed since the divorce between adidas and Kanye West, the end of one of the longest and most lucrative relationships in the coaching world, following the rapper's controversy. A story that came to an even more bitter end when West, guest of far-right commentator Alex Jones, bluntly expressed his admiration for Hitler in a moment that embarrassed Jones himself, who is known for his less-than-pleasant positions. But while adidas seems to have already moved past the divorce, preparing to sell the first trainer with a Yeezy designer without the naming (owned by West), Kanye has embarked on a downward spiral, the culmination of which could be his own extinction. After a music career with an uncertain future and a fashion career that was shut down after the disastrous Paris Fashion Week show, Ye seems set to continue his 'political career' with an unlikely run in the next US election in 2024, having attempted the impossible just four years ago by running for the White House and receiving only 60,000 votes.
In late November, West was among the stars of what could be described as a dinner party none of us would want to attend. In addition to the rapper, the guests included Donald Trump, white supremacist Nick Fuentes and Milo Yiannopoulos, former editor of the far-right website Breitbart and organiser of the gathering that earned the former US president condemnation from the entire Republican Party. The role of West, now labelled an 'anti-Semitic rapper' by the press, is that of a caricature, a role he seems to have brought upon himself in a constant personal and artistic fall from grace in which the one thing that has always saved West from himself has failed him: the fans. Since his comments on Infowars, a large portion of Kanye's fan base has thrown in the towel because they no longer felt like supporting the rapper, setting off a domino effect that has left West without his only defence.
Twitter accounts and Instagram pages have distanced themselves from Kanye West, while WestSubEver, the legendary subreddit dedicated to the rapper, has decided to shut down. «Toxicity has increased exponentially in recent weeks, as has bigotry and other behaviour that we will not tolerate» he said. Ye's comments in this interview are the final nail in the coffin and apparently there is no going back,' they wrote in the post announcing the closure, a decision followed by another historic account dedicated to Kanye West, like Watching The Throne. Its founder Chris Lambert decided to cut ties with the rapper by deleting hundreds of videos on YouTube and changing the name of his account. One can argue about the timing of certain decisions, especially since Kanye West has never been spared unfortunate outings over the years, but this general capitulation of his fan base casts an ominous shadow on Ye's future, if only because of his delusions and friendships with figures of the American alt-right. If in the past fan-opened social accounts were always a sounding board for West's life, who for years stayed away from social media but generally hesitated to use it canonically, today that unconditional support has come to an end, leaving Kanye with a legacy destroyed or in the process of being destroyed.