5 things Travis Scott copied from Kanye's style
But who didn't copy from Kanye?
It was 2021 when Ye, in an interview with Revolt.TV, said: «When I called Travis boy earlier, you know I tell Trav, 'You copy me boy'. […] I respect Trav. If I'm the father… Because I'm the father, the sons gotta know that they sons». An apparent disagreement that actually says a lot about how Scott has taken up much of Ye's style over the years, both musically and aesthetically. And now that UTOPIA, Scott's new album, has become a worldwide hit that conversation has resurfaced, both because many have pointed out the similarities between the Houston rapper's album and YEEZUS, and because the poster announcing the upcoming Utopia Circus Maximus tour would appear to be signed by George Condo, an artist historically associated with Ye who, to be fair, would have had some say in the production of Scott's new album just as the latter had a voice in the production of YEEZUS. This is without mentioning Mike Dean's participation in both albums, the rumor that some of Scott's songs were developed during Donda's creative sessions, and the literal sampling of Numbers on the Board by Pusha T produced by, among others, Kanye himself.
But the similarities are not, as mentioned, limited to music alone, extending to some of the style traits that Scott seems to have absorbed from West. Although the two have quite different dress manners (at one point it was even A$AP Rocky who accused Scott of stealing his vibes) some similarities exist. We have listed the most obvious ones.
Leather pants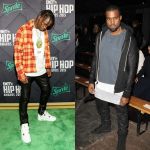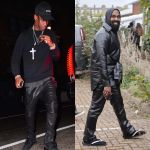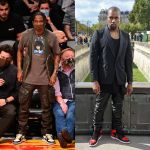 Leather pants have exploded in recent years (this year, cargo pants have surpassed them in popularity) and Travis has certainly worn many of them, going so far as to produce a few pairs for the Jordan x Travis Scott collaboration. But how can you not remember when, ten years ago, Kanye recalled with a tinge of resentment about the time he suggested the idea of «leather joggers» to the top management of Fendi except to be later rejected. Except perhaps Ricky Martin, in fact, Kanye was one of the most prominent proponents of leather pants-and perhaps we all copied from him a bit. While we're on the subject of pants, we might also add that in the era immediately preceding the Yeezy boom, Ye wore skinny jeans, ripped pants in abundance and then favored cargo pants to them a few years later. All pants that Scott still wears now.
Flannels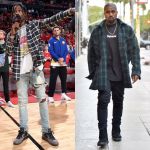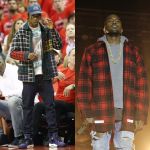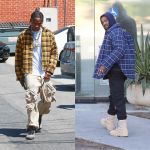 There existed a time when the humble plaid shirt was worn only by hipsters pretending to be lumberjacks or by fanatics of the grunge scene. It was from this scene that Ye took several styles (including distressed clothing and old t-shirts that we will return to shortly) of which the plaid flannel shirt was the main one. Specifically, Kanye liked to pair them with more distinctly streetwear pieces such as hoodies and, in one case, even a Box Logo crewneck from Supreme; his signature Fear of God flannel worn during the YEEZUS era remains famous. For Scott, the flannel passion almost certainly came from his Texas roots - but the styling is essentially the same, with exceptions. Nonetheless, it is clear that flannel is a traditional American garment-symbolic of outdoor work and iconic of the blue collar world-and so we can assume that even if the two had not met, they would still have worn it.
Coordinated earth tones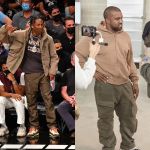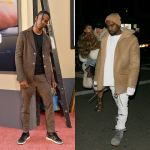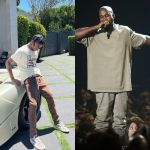 Let's cut to the chase. The general population of the world, including fashion lovers, tends to love grays, blacks and various shades of blue. The love of beige is not widespread, and the same earth tones are not seen too often on men. Certainly, both Travis and Ye have provided important lessons in this regard. Especially in the case of the former, the outfits with earth tones are perhaps his most successful. But as for neutral tones and earth tones combined, Ye was a forerunner that, by the way, many still do not follow.
The Celine SS11 shirt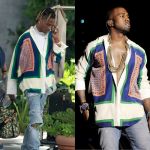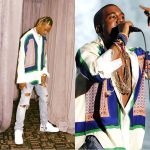 In 2018 Travis Scott even ended up in Vogue for wearing the same shirt from Phoebe Philo's Celine SS11 collection. The shirt had been made a classic seven years earlier by Ye, who wore it for a historic performance at the Coachella festival. Perhaps this is the most direct quote Scott has ever made to Ye's clothing-also the most appreciable.
Vintage t-shirts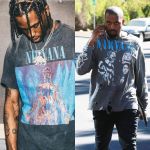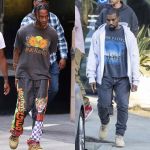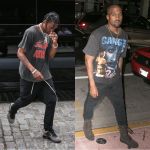 Without even mentioning the vintage Akira t-shirt (anime that more than any other is associated with Ye) worn by Scott, both artists are very fond of the rarer, older, and often battered t-shirts. The vibe has since gradually spread to the rest of mainstream fashion, but it is entirely part of the style signature of both. And if Kanye pioneered the rediscovery of vintage t-shirts, it was Scott who made them immensely popular for Gen Z.