Ganni, Soulland and Stine Goya are among the names of the upcoming Copenhagen Fashion Week
For the Autumn/Winter 2023 edition, CPHFW introduced a new sustainability standard required of brands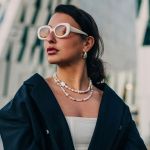 After its last edition in August, Copenhagen Fashion Week is gearing up for its return for the Autumn/Winter 2023 edition, which runs from 31 January to 3 February. Some stellar confirmations stand out from the field of participants, such as Ganni, Saks Potts, and Stine Goya, along with other emerging brands like (Di)vision, Holzweiler, Soulland, and Aeron, while Finnish company Latimmier is among the newcomers, along with Danish company P.L.N. and Iso.Poetism by Tobias Birk Nielse. Selam Fessahaye (Sweden), TG Botanical (Ukraine), and Stamm (Denmark), on the other hand, are the three brands nominated for the annual Zalando Sustainability Award.
While sustainability has always been a focus of CPHFW, this edition is the first to implement the 18 sustainability standards required of brands to participate in Fashion Week. From requiring zero-waste shows and banning single-use plastic packaging to ensuring fair wages and working conditions throughout the supply chain and requiring collections to be made from at least 50 percent certified, recycled, upcycled, or deadstock materials, each brand was assessed by the CPHFW Show Committee and the CPHFW Sustainability Committee, consisting of consultancy agency Rambøll and consultants In Futurum and Dansk Fashion & Textile. «We will continue to support those that need a little more time and hope that they will be able to present with us in the near future,» commented CEO Cecilie Thorsmark in reference to all the brands that fell out of the selection.
CPHFW is the first fashion week to take such drastic measures to not only reduce the impact of the shows but also to create a more ethical and sustainable fashion business. A journey that began last August when the use of fur was banned. «We simply wanted to rethink our platform and use our position to accelerate the sustainability efforts of the fashion brands that make up Copenhagen Fashion Week. Since then, we have worked closely with the brands to support them through various knowledge-sharing activities and to prepare them for an extensive application process this season. I am absolutely impressed by the commitment with which the brands have taken the necessary steps to meet the minimum standard,» commented Cecilie Thorsmark.