7 trends you've always wanted to follow
And that you can now replicate from the Zalando store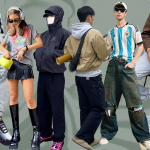 Being able to establish and predict how long a trend will last can, more often than not, be particularly complex. Especially when trends are born and spread directly on digital platforms like social media. We see Y2K everywhere - or very nearly everywhere - on the catwalk, on the streets, but also and especially on feeds. The case is different with trends like bloke core, whose authority has been established through social media like TikTok. We should not disregard aesthetics and styles that have withstood the test of time - for example, minimalism or workwear. Recreating a vibe that winks at Y2K, an aesthetic somewhat related to the world of sportswear, or relying on the ever-present minimalism can be surprisingly simple. Here we offer a selection of items broken down by trend and aesthetic - blokecore, Y2K, workwear, radical chic, gorpcore, minimalism, and maranza - as a how-to style guide. Together with the 222 store account, we have created on Zalando our shopping guide is under the banner of streetwear.
Bloke Core
The microtrend that prevailed in 2022 was low maintenance: you just need a soccer team tee and a sporty verve. Pair with a pair of baggy jeans and sneakers like the adidas Originals Superstar.
Y2K
The situation is simple: a pair of low-rise jeans, bright hues, and crop tops would be enough. It depends on the type of Y2K you plan to recreate - shades can range from more street vibes to darker declinations. Here are the items for a Y2K outfit: printed T-shirt, mini skirt, platform boots, and studded handbag.
Workwear
The inspiration, again, is easy to replicate: you need basic garments, but reworked from a functional perspective. Carhartt is a brand to refer to if your goal is to create your workwear uniform: cargo, hoodie, and bomber jacket are the ideal trifecta. For the finish, Birkenstock footwear.
Minimal
Minimalism rhymes with bold, formal color palettes-typically dark or light, but cool tones-but today you can experiment with interesting mixes and matches that allow you to stay minimal with a personal touch. Yes to white shirts, cigarette jeans, low-top sneakers, and accessories such as ties.
Radical
Here it's all about perspective and subtle references: the look is basic but relaxed, casual but not too casual. Yes to baggy denim, oversized t-shirts, printed cotton tote bags, and the ever-present Birkenstock sandals.
Gorpcore
Mountains and outdoor activities are no longer prerequisites to recreate your gorpcore style. All you need is a pair of performance sneakers - a viable option might be to consider Salomon SpeedCross 3 Reflect - an outdoor jacket and parachute pants, preferably oversized.
Maranza
The number of subcultures is growing by leaps and bounds, and each tends to embrace different aesthetics and references. If you're in Italy, you've undoubtedly heard of Maranza. There is nothing complicated about how you can spot them: the jogger is strictly from Nike - the fit is rather skinny - as well as a sweatshirt (preferably zippered) and a pair of low-top sneakers such as Air Max 95s.