Riccardo Tisci relaunches his own label after 17 years
Actress Michaela Coel wore a custom black dress designed by Tisci himself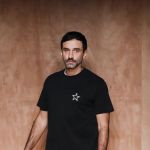 Just over a month after Riccardo Tisci stepped down from his role as Burberry's chief creative officer, the Italian designer returned to the spotlight by releasing work under his own name for the first time in 17 years. The occasion coincided with the London premiere of Black Panther: Wakanda Forever, where Tisci designed a custom dress for actress and screenwriter Michaela Coel. Tisci's dark esthetic is instantly recognizable in a shot of the actress on a white marble staircase: the black dress features a stretch silk bodysuit embellished with a multi-layered Chantilly lace skirt with floral and star motifs. The look also includes black floral lace tights and black sandals designed by Tisci himself.
However, this is not the first time that the designer has come up with his own fashion label. He started his own brand in 2004, a project that was put on hold the following year after he was named creative director of
Givenchy
until 2017. The following year he moved to Burberry and reshaped the brand's image on a street-savvy backdrop but failed to achieve the desired momentum. Thus, in September came the official announcement: Tisci was leaving Burberry. The issue has probably had a direct effect on the
creative path
of the designer who may now actually emerge with his own line. It cannot be ruled out that, given his large following and appeal in the fashion industry, the designer may actually find his own dimension within a project that is probably more stimulating and less constraining.