For Kim Jones, this was all part of the plan
The "de-streetwearization" of fashion according to the creative director of Dior Homme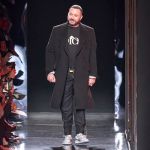 Picture this: It's December 3rd, 2019, and while it wasn't really a particularly remarkable day when it came to the weather or even the news (other than a few mysterious coughs here and there), Dior Men's was secretly preparing for an event that would totally change the fabric of the streetwear scene, forever. While the Parisian fashion house's Pre-Fall shows are always filled with surprises, with Daniel Arsham, Hajime Sorayama, and KAWS collaborations all taking over the previous year's line-up, Artistic Director Kim Jones had something even bigger prepared for his 2020 showcase. To coincide with Air Jordan 1's 35th birthday, Jones linked up with the Michael Jordan label for a special Dior x Air Jordan 1 High and Low collection. While the line between high fashion and streetwear was already a little blurry at this point, especially after the Supreme x Louis Vuitton drop from 2017, this collaboration aimed to completely remove it altogether. In the months leading up to the release, sneakerheads were drip-fed details to build up the hype. From a massive international raffle to a complementary clothing capsule led by none other than Travis Scott, Jones' Jordan collaboration finally launched in June 2020, over half a year after it was announced. While this type of release is exceedingly rare, especially in a world where a brand new sneaker gets unveiled every single day, it paved the way to an entirely new genre of sneaker partnership that continues to reign supreme even over two years later. At the start of 2019, if you wanted to own a high-fashion sneaker collaboration you'd probably have to part ways with at least one of your kidneys. In fact, other than Alexander Wang's adidas partnership, Off-White's Nike collection, and Vivienne Westwood's ASICS line, there wasn't really much choice either.
To put this into perspective, if you fast forward one year and check out some of the best sneakers of 2020, you'll quickly realize how different they are compared to those of 2019. While 2019 was filled with '80s retros and partnerships with independent boutiques, 2020 was dominated by Aimé Leon Dore x New Balance, Kiko Kostadinov x ASICS, Prada x adidas, Pyer Moss x Reebok, sacai x Nike, and of course, Dior x Jordan Brand. By teaming up with the Air Jordan company, the British designer was telling the luxury fashion world that it was actually okay to link up with sneaker and streetwear brands for fully-fledged collabs. Therewith, he also brings into question the credibility and plausibility of the term "streetwear." A word that has been thrown around over the past few years, Jones famously expressed his dislike for the expression back in 2019. In an interview from Issue 17 of Highsnobiety Magazine, he said, «You wear clothes in the street, so everything's streetwear. You can wear a couture gown down the street and that turns it into streetwear.» He then proceeded to bring up UNDERCOVER's Jun Takahashi, whom he regards as one of his favorite designers today. World-renowned for his punk-inspired collections and graphic-driven pieces, modern hypebeasts have been quick to categorize his works as streetwear.
However, Kim disagrees. «His work is fashion. I think it's wrong to put that in the bracket of 'streetwear' — it's just good design. You've got to be realistic about what people wear.» Jones' de-streetwearization of fashion stems from making it more approachable to the masses. While the Dior Jordan 1 release was, indeed, extremely limited, he very easily could have made this launch exclusive to his inner circle. On top of that, when the French house officially crowned him as Artistic Director for the brand, one of the first things that he did was rename "Dior Homme" to "Dior Men's" which is no doubt infinitely more welcoming, especially for younger fashion lovers. This vision of creating collections for the next generation was most recently seen when Kim Jones invited ERL to work on the "California Couture" capsule. Giving new designers, such as Eli Russell Linnetz, a platform to showcase his talents, the graphic-heavy collection was worlds apart from Hedi Slimane and Kris Van Assche's goth-chic aesthetic (think Lady Gaga's The Fame Monster from 2009).
Of course, this isn't the first time that the London-born fashion designer has attempted to cancel the idea of streetwear. As mentioned in the second paragraph of this piece, 2017's Supreme x Louis Vuitton was the collection that made the industry question what it even means. And who was the mastermind behind this infamous capsule? You guessed it. It was Kim Jones, who helmed LV's menswear division from 2011 to 2018. The Dior x Air Jordan 1 was released over two years ago, and even today, the industry continues to feel the Air Dior Effect. Following its launch in Summer 2020, the amount of high fashion sneaker collaborations available right now has totally skyrocketed. Thanks to partnerships like AMBUSH x Converse, COMME des GARÇONS x Nike, Maison Margiela x Reebok, and of course, the Cactus Jack x Dior collection, it's now clearer than ever that "streetwear" can no longer seriously be considered a fashion genre by itself. While some might see this phenomenon as nothing but sheer coincidence, for Kim Jones, this was all part of the plan.